U.S. Bears Pile on Large-Cap China ETF as Stimulus Wanes: Chart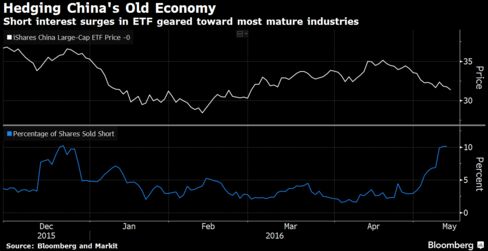 U.S. investors are doubling down on bets against an exchange-traded fund heavily weighted with Chinese companies in industries hardest hit by the nation's slowdown. Short interest in the iShares China Large-Cap ETF rose to 10 percent of outstanding shares last week, the highest level since December, data compiled by Bloomberg and Markit Ltd. show. The fund, which tracks an index of China's 50 biggest companies, has fallen 11 percent from this year's high in April as concern mounts that the government will refrain from adding more stimulus this year even as data show the economy is still faltering.
Before it's here, it's on the Bloomberg Terminal.
LEARN MORE