Tax changes introduced last month have skewed the market

First-time buyer demand increases amid drought in property
U.K. house prices rebounded in May after an investor rush to beat a new tax introduced last month left behind a shortage of homes for sale, according to Rightmove.
Asking prices increased 0.4 percent to an average 308,151 pounds ($442,000), the property website operator said on Monday. Prices for properties traditionally sought by first-time buyers surged 6.2 percent.
In London, asking prices fell 0.3 percent, according to Rightmove. With the average price in the capital now more than 640,000 pounds, it said many first-time buyers seeking more affordable homes are being driven out of the capital.
The report adds to evidence that the tax increase on investment properties skewed the market in recent months, after it was implemented by Chancellor of the Exchequer George Osborne to help first-time buyers compete for homes. Investors rushing to snatch up houses before the change meant a dearth of supply, and Rightmove said some areas have seen "eye-watering increases in asking prices."
Housing Feast
"Buy-to-let investors have had a bricks and mortar feast between the chancellor's announcement in November and the tax deadline at the end of March," said Rightmove director Miles Shipside. "The result is a famine of suitable property and higher prices."
Demand for entry-level properties remains high, Rightmove said, while fresh supply has fallen compared with a year ago because of the intense investor activity seen in March, when transaction numbers were up 80 percent.
Motivation to get onto the housing ladder is being buoyed by the increasing cost of renting, better availability of mortgage products and deposits gifted by family, Rightmove said.
In the capital, asking prices in inner London fell 1.1 percent as buyers chose more affordable areas. The top 10 "hotspots" for one and two-bedroom properties are all in outer London or neighboring regions, Shipside said, indicating "an exodus of first-time buyer interest."
---
Explore Housing Prices in London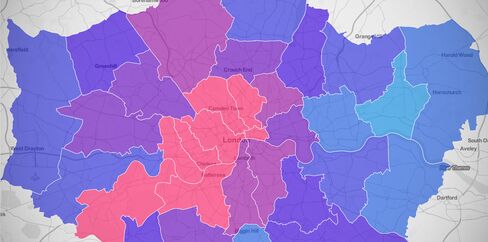 Before it's here, it's on the Bloomberg Terminal.
LEARN MORE