May Is Harshest Month for Brazilian Stocks as Ibovespa Retreats
Brazil's benchmark index has fallen every May this decade

After change in government, investors assess timing of rebound
Brazilian stocks fell Friday, keeping the Ibovespa benchmark on course for its first monthly drop since January. If history is any guide, that shouldn't surprise investors.
Brazilian stocks have fallen every May this decade, adding weight to the old adage "sell in May and go away." The Ibovespa declined 2.7 percent to 51,804.31 at the close of trading in Sao Paulo, bringing its month-to-date drop to 3.9 percent.
After Brazilian stocks posted the world's biggest rally this year among major markets, a growing chorus of investors have started warning that future gains may be limited as a new government works to implement economic measures aimed at reviving Latin America's largest economy. Acting President Michel Temer took over Thursday after the Senate voted to suspend Dilma Rousseff while she stands trial on allegations she illegally financed a budget deficit.
"We're on wait-and-see mode for Temer's strategy," said Rafael Ohmachi, an analyst at the brokerage Guide Investimentos in Sao Paulo. "The market starts to pay more attention to the reality of the economy now, and it doesn't look great."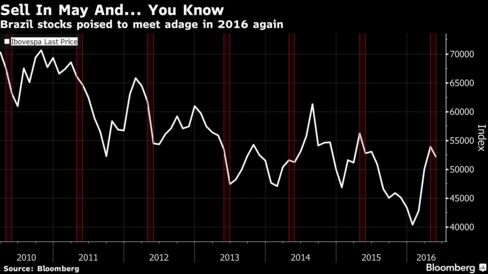 Disappointing quarterly results from state-controlled oil producer Petroleo Brasileiro SA to homebuilder EZ Tec Empreendimentos & Participacoes SA underscored the challenges ahead as companies struggle amid the worst recession in a century. Among 53 Ibovespa members that have already reported first-quarter results, 33 missed analysts' estimates for sales.
Petrobras slid 3.4 percent and EZ Tec declined 0.7 percent. Steelmaker Cia. Siderurgica Nacional SA tumbled 13 percent, leading raw-materials producers lower as the Bloomberg Commodity Index declined 0.3 percent. For-profit college manager Estacio Participacoes SA and online retailer B2W Cia. Digital slumped after being removed from MSCI Brazil Index effective June 1. The real lost 1.4 percent to 3.5311 per dollar.
Finance Minister Henrique Meirelles said this morning that Brazil must rein in public spending, bring down debt levels and propose realistic fiscal targets. An increase in taxes, if needed, would be temporary, he added. The country lost its investment-grade credit rating last year and was cut further into junk this year after failing to tame a ballooning deficit. On Monday, a new head of the central bank will be announced.
The Ibovespa is trading at 12.3 times estimated earnings, which is 10 percent above the three-year average and 9.2 percent more expensive that the MSCI Emerging Markets Index.
Before it's here, it's on the Bloomberg Terminal.
LEARN MORE