German Union Strikes Benchmark Pay Deal Boosting Real Income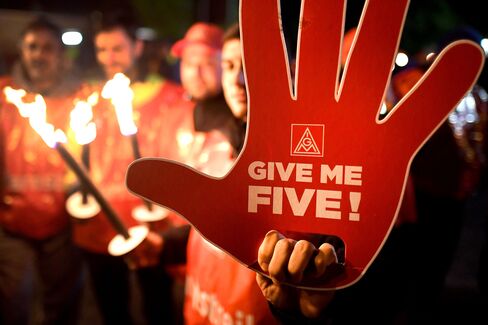 IG Metall North Rhine-Westphalia deal bellwether for country

Union says pay for NRW workers will rise 4.8% in two steps
German labor union IG Metall and employers in the country's most-populous state reached a wage agreement on Friday that could pave the way for a further boost to real incomes in Europe's largest economy.
The deal in North Rhine-Westphalia is for a 4.8 percent pay rise in two steps, covering some 700,000 workers, IG Metall said. The union has said the talks should serve as a model for metal workers in other German regions.
"The pay increase allows employees to take part in companies' economic success and enables a marked rise in real wages," Knut Giesler, who leads the union in the state, said in an e-mailed statement. "Domestic demand is and remains the number one motor of the economy."
With unemployment at a record low, workers in Germany have been able to push for higher pay even with inflation weak and disposable income getting a boost from falling fuel prices. That's helped support consumer demand, which along with government spending helped the German economy to grow at its fastest pace in two years at the start of 2016, data on Friday showed.
At the same time, European Central Bank stimulus is driving a cyclical recovery in the 19-nation euro area as a whole. Its economy grew slightly less than initially estimated in the first quarter, though momentum was still the fastest in a year at 0.5 percent, according to data published on Friday.
Sectoral workers in North Rhine-Westphalia will see remuneration rise 2.8 percent as of July, and by 2 percent for 9 months from April 2017, IG Metall said. There is also a 150-euro ($170) payout for the month of June 2016.
Higher pay rises could help to restore inflation in Germany, which was minus 0.3 percent last month. In the euro area, economic growth has failed to revive consumer prices and new risks such as a Chinese slowdown and the U.K.'s vote next month on whether to leave the European Union still have the potential to damage the recovery.
Euro-area inflation was minus 0.2 percent in April and hasn't been near the goal of just under 2 percent in more than three years.
Before it's here, it's on the Bloomberg Terminal.
LEARN MORE