East EU's Growth Slows More Than Expected on Ebbing EU Aid Flow
Romanian fiscal easing boosted growth in first quarter

Hungarian, Polish, Slovak economies slow as investment slumps
Growth in the European Union's biggest eastern economies slowed more last quarter than economists expected, as household spending failed to offset waning aid funds and weakening export demand.
The economies of Poland and Hungary unexpectedly contracted from January to March compared with the previous three months and Slovakia's expansion failed to match economists' projections, according to flash estimates released Friday by national statistics offices. Romania alone reported faster annual growth from January to March as fiscal easing in an election year buoyed consumption. Economists see Czech growth data due on May 17 showing a slowdown to 2.6 percent. Currencies were little changed.
The fragile recovery in the euro zone is forcing the eastern EU nations to rely on domestic demand, rather than exports, to fuel their economies and continue catching up with their richer western peers. While public spending boosted expansion last year as governments rushed to spend EU aid funds before an end-2015 deadline, diminished inflows this year have hurt investment, making consumer spending key for growth. The euro area, the main trading partner for the EU's east, expanded 1.5 percent.
"The impact of the investment slump due to the EU fund slowdown was a bit more painful than we had anticipated, particularly in Hungary," said William Jackson, an economist at Capital Economics Ltd In London. "Given the weaker-than-expected start to the year, I think we'll start to see growth forecasts for 2016 as a whole come down a little."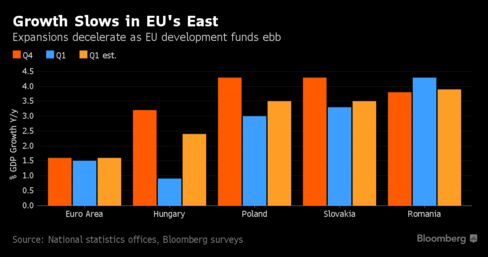 Romania reported the fastest growth, with gross domestic product expanding 4.3 percent from a year earlier. The pace exceeded the 3.9 percent estimate of 11 economists and compares with 3.8 percent growth in the previous three months. Economic activity was helped by a consumer boom spurred by public-sector wage increases and value-added tax cuts.
The European Commission predicts Romanian GDP will expand at the bloc's second-fastest pace in 2016, behind Ireland. Central bank Governor Mugur Isarescu has warned growth may slow because of a mortgage walk-away law that risks curbing lending.
Slowing annual growth in Hungary, Poland and Slovakia was already foreshadowed by monthly data, with construction output diving as EU funds ebbed, while weaker industrial production pointed to lackluster demand in the euro area. Still, the downswing was bigger than economists expected, raising chances for more fiscal stimulus and looser monetary policy in non-euro members Hungary and Poland to prop up growth.
Hungary posted its first quarterly contraction in four years, pushing annual growth to 0.9 percent, the slowest pace since 2013. The expansion slowed from 3.2 percent in the fourth quarter, when a heavy inflow of EU funds accounted for almost half of public investment. The forint touched a four-month low after the data was published, and was down 0.1 percent at 11:15 a.m. in Budapest.
Hungarian "household spending has likely remained fairly stable, though today's release suggests that it was weaker than retail sales prints had suggested," Marcin Kujawski, a Warsaw-based economist at BNP Paribas SA, said in an e-mailed report. "We expect the pattern of poor capital spending and decent private consumption to continue in the quarters to come."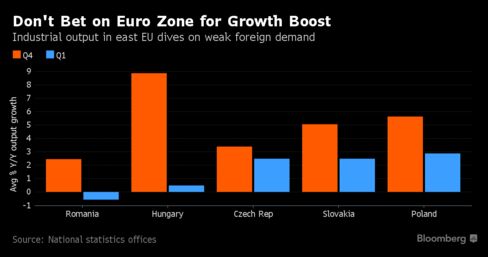 The effect of diminished EU aid funds also appeared in Polish and Slovak data. Poland's economy expanded 3 percent, the slowest pace in more than years and lagging economists' estimate of 3.5 percent. The government's target for full-year growth is 3.8 percent, up from 3.6 percent in 2015, as it expects a recently approved child benefit program to boost consumption by an extra 17 billion zloty ($3.8 billion). Slovakia's expansion slowed to 3.3 percent from 4.3 percent in the previous quarter.
Slowing growth increases chances for "extremely loose" monetary policy in the region, Jackson said, predicting a series of rate cuts in Hungary. Warsaw-based MBank's chief economist Ernest Pytlarczyk said the Polish result makes a rate cut in second half of this year more likely.
"With the exception of Hungary, it should still be a fairly positive growth story this year," Jackson said. "Labor markets have really strengthened in the past year and wage growth has picked up, which should support consumption. And looser fiscal policy in a few places – notably Poland – will also support domestic demand."
Before it's here, it's on the Bloomberg Terminal.
LEARN MORE