World's Worst Market Underscores $50 Billion Stock Rout: Chart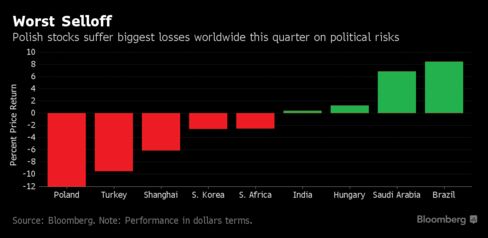 Polish stocks have led losses worldwide this quarter, with the benchmark WIG20 Index sliding 12 percent in dollar terms, as the Law & Justice-led government's policies erode confidence in a market once considered a haven among developing economies. Earnings projections have tumbled as the government taxes banks to increase social spending and borrowing costs rise. About $50 billion has been erased from the value of the country's equity market in the past year after the surprise victory in presidential elections in May 2015 of Andrzej Duda, who hails from the Law & Justice party.
Before it's here, it's on the Bloomberg Terminal.
LEARN MORE