Mortgage-Delinquency Rate in U.S. Closely Tracks Jobless: Chart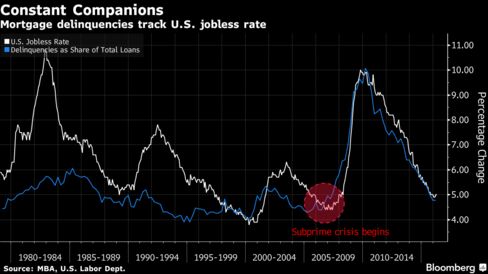 A job and a paycheck go a long way in the home-loan market. In fact, U.S. mortgage delinquencies have closely tracked the unemployment rate since the financial crisis, data from the Mortgage Bankers Association show. The seasonally-adjusted delinquency rate for loans on one-to-four unit residential properties remained unchanged in the first quarter at 4.77 percent, 77 basis points lower than a year ago and the lowest in almost a decade, according to the its National Delinquency Survey.
Before it's here, it's on the Bloomberg Terminal.
LEARN MORE