In Red-Hot Brazil Market, Foreigners Are Exiting as Locals Enter
Local investors poured 1.1 billion reais into stocks in May

Foreigners pulled 1.4 billion reais out in the same span
Big global players like Will Landers and Mark Mobius may have driven Brazil's world-beating stock rally for most of this year, but it's the local investor community that's now taking the lead.
After sitting on the sidelines as lawmakers' push to oust President Dilma Rousseff spurred a wave of buying by foreigners, local investors including mom-and-pop types are suddenly returning to the market and now account for almost a fifth of all trades, the highest portion since 2012, exchange data show. That their change-of-heart coincides with the final days of Rousseff's administration after the Senate voted Thursday to suspend her from office is no coincidence.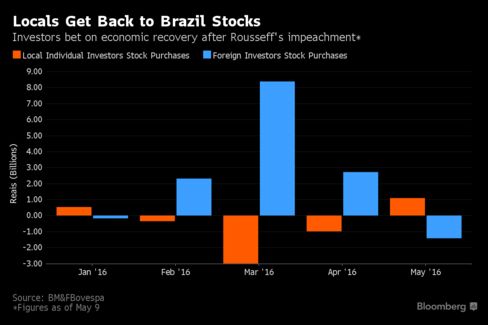 Just ask Giancarlo Tognato. The 51-year-old was forced to shutter his car-repair shop in an upscale Sao Paulo neighborhood late last year as the economy sank deeper into its worst recession in a century. Hoping to make back some of his losses, he's now stepping up investments in stocks that depend on the local economy, essentially betting against the person he blames for his misfortune: Rousseff.
"Locals who feel every little change in the mood are starting to get more optimistic with the prospects for the economy with a new government," said Beatriz Fortunato, a money manager at Studio Investimentos in Rio de Janeiro who helps oversee 400 million reais ($115 million) in assets. "The trend is that flows into stocks increase."
The Ibovespa rose 1.4 percent to 53,498.25 at 12:25 p.m. in New York. Brazil's real halted a two-day rally after the central bank intervened to weaken the currency, sending it down 0.7 percent to 3.4771 per dollar.
Local investors like Tognato poured a combined 1.1 billion reais into stocks this month through May 9, while foreigners pulled 1.4 billion reais out, according to the most recent data from BM&FBovespa SA, Brazil's stock exchange operator. While locals run the risk of joining the party too late -- a growing chorus of asset managers say further gains are limited until Brazil actually turns the corner -- it signals a clear shift in attitude: Brazilians are feeling better about their long-term outlook.
In Tognato's own words: "I know the country can't be fixed overnight, but there's no where for it to go but up."
That's a reversal from earlier this year, when it was the overseas cash that drove the euphoric highs and panicked lows that made Brazil the world's most volatile equity market. The Ibovespa stock index has rallied 39 percent in dollar terms this year, the most among major global benchmarks. Mobius, the executive chairman of Templeton Emerging Markets Group, and Landers, a money manager and managing director for BlackRock Inc., were among investors betting that Rousseff's ouster will usher in a new government better able to revive Latin America's biggest economy, contain an exploding budget deficit and slow inflation that's running close to 10 percent.
Following the Senate vote, Rousseff will step down for as long as 180 days while she stands trial on allegations she illegally financed budget deficits. Investors are speculating that Vice President Michel Temer, who is set to take her place, will announce a more market-friendly economic team. Former central bank chief Henrique Meirelles is the front-runner to become his finance minister, according to Temer's aides.
Mobius said as recently as this month he's still buying, and Dan Raghoonundon, a Latin America equity research analyst at Janus Capital, said he considers the Ibovespa cheap until it reaches 65,000 points, 23 percent higher than Wednesday's close.
But JPMorgan Chase & Co., Verde Asset Management and Quantitas Asset Management say future rallies depend on Temer successfully implementing the much-needed reforms.
"It won't be easy, but I really hope that a new government will be able to fix all that this administration did wrong," said Tognato, who bought shares of retailers like supermarket chain Cia. Brasileira de Distribuicao and credit-card processor Cielo SA. "They're long-term investments."
Before it's here, it's on the Bloomberg Terminal.
LEARN MORE