Cleaning Up Popcorn
SkinnyPop, with just three ingredients, is overshadowing higher-calorie, flavored rivals.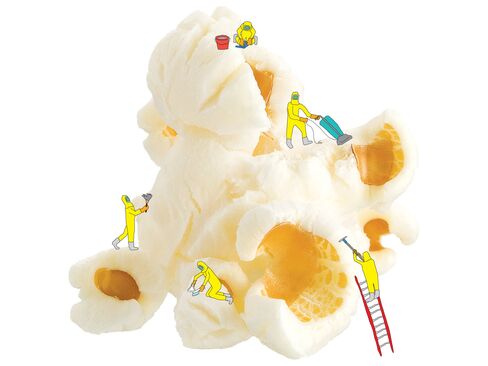 Popcorn is one of the world's oldest snacks: Archaeologists have unearthed roasted maize cobs in excavations of prehistoric settlements in Peru. In the U.S., where popcorn has been sold commercially for almost 200 years, the movie theater and ballpark staple is having a renaissance. That's because Americans are noshing more—and more often. They want food that's convenient, simple, and healthy. Annual sales of ready-to-eat popcorn—meaning already popped—have exploded since 2011, almost doubling to $1.1 billion. The growth has been powered by Amplify Snack Brands' SkinnyPop, which has just three ingredients—popcorn, sunflower oil, and salt—and about 150 calories per ounce. "Consumers love the simplicity of popcorn" says Tom Ennis, Amplify's chief executive officer. "They want to know what they're eating."
SkinnyPop hit the market in 2010, the creation of a pair of Chicago entrepreneurs who'd previously sold gourmet caramel- and cheese-flavored popcorn. Annual sales climbed to $44 million within three years, drawing the attention of TA Associates, which paid $320 million for a majority stake in the business in 2014. The private equity firm hired Ennis, who'd run the beef jerky company Oberto Brands, to lead the business, which reincorporated as Amplify. The Austin-based company went public in August of last year in a $270 million IPO.
The stock offering came just days before the onset of market turbulence that's dissuaded a number of consumer-products companies from going public. Shares of Amplify hit a low of $9.43 on Jan. 11; they've bounced back more than 25 percent but are still below their IPO price of $18.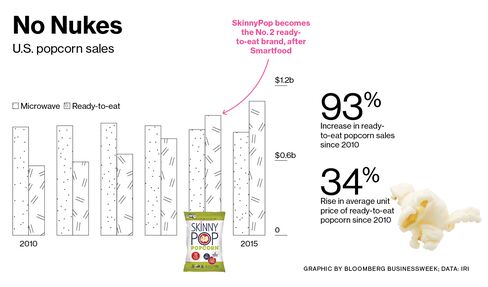 Sales of the company's flagship product, which account for almost all of its revenue, have surged 300 percent during the past two years to finish 2015 at $176.9 million, according to data from market researcher IRI. Euromonitor International ranks SkinnyPop fourth in the overall popcorn market—which includes Orville Redenbacher's from Conagra Foods and Pop Secret from Diamond Foods—and No. 2 in the faster-growing ready-to-eat segment, where it trails only Smartfood, the longtime leader produced by PepsiCo's Frito-Lay, the world's largest snack company. SkinnyPop and Smartfood are profiting as consumers move away from microwave popcorn, which now trails the ready-to-eat variety.
After acquiring SkinnyPop, Amplify ramped up marketing and increased distribution with retailers looking to boost their healthy salty-snack offerings. Ennis also credits the brand's success to new cooking techniques and packaging innovations that help precooked popcorn stay fresh on store shelves. It doesn't hurt that the name SkinnyPop implies it's a diet food without explicitly saying so. "Popcorn got cleaned up," says Kara Nielsen, a culinary-trend analyst for Sterling-Rice Group, a branding company. Consumers were craving an alternative to giant tubes of fluorescent popcorn flavored with fake butter and sweet, tooth-rotting caramel corn. "It went from being an indulgent treat to being an everyday snack that isn't bad for you," she says.
Popcorn's still a relatively small piece of the U.S. salty-snack market, dwarfed by sales of potato and tortilla chips and nuts, according to data from Euromonitor. Overall, popcorn sales were about $2.9 billion last year, compared with a combined $15.3 billion for tortilla and potato chips. But popcorn's been the fastest-growing salty snack each of the past three years, leading more companies to focus on the category. Conagra, which makes two of the largest microwave brands, joined forces with reality-TV star Bethenny Frankel in 2014 on a SkinnyGirl brand, in a direct pitch at weight-conscious female consumers. Annie's Homegrown, an organic label owned by General Mills that's best known for its macaroni and cheese, released a popcorn earlier this year; and Inventure Foods, the makers of Boulder Canyon potato chips, recently debuted Real Thin Pop. Steve Sklar, who runs the snack division at Inventure, says his company's popcorn has less fat than SkinnyPop. Real Thin Pop varieties are cooked in olive, coconut, and avocado oil. "Anybody can do a different flavor," he says, "but not everybody has the technology to use different oils."
One reason competition is heating up is that SkinnyPop has demonstrated that consumers will pay a premium for clean popcorn. At Walmart.com, a 12-pack of 4.4-oz. bags of SkinnyPop costs about $50, while a carton with twenty-five 1-oz. boxes of Cracker Jack, Conagra's long-popular caramel corn, can be had for $15.88.
Ennis says he isn't overly concerned about the growing number of competitors. Angie's Boom Chicka Pop and Popcorn Indiana, two rivals battling for clean-popcorn consumers, had a combined $107.7 million in sales last year, while Amplify's were $183.9 million. The Texas company also has a big head start on late-arriving food giants who might try to jump into the market. "The land grab is over," Ennis says.
Amplify is expanding beyond popcorn. On May 2, it announced an agreement to buy Boundless Nutrition, an Austin company that makes snack bars and cookies and had sales of about $7 million last year. Amplify also has its eyes on a bigger piece of the salty-snack market, and it's once again gunning for Frito-Lay. The company started distributing its Paqui (rhymes with "hockey") tortilla chips across the U.S. this year. The gluten-free, non-GMO chips are flavored with organic cheddar cheese. Ennis calls it a "better-for-you Dorito."
The bottom line: Sales of Amplify Snack Brands' SkinnyPop have grown 300 percent in the past two years, propelling it to No. 4 in the popcorn market.
Before it's here, it's on the Bloomberg Terminal.
LEARN MORE