Noble gets a reprieve from banks with $3 billion in loans

Elman fighting for survival of company he founded in 1987
Richard Elman's battle cry for nearly 60 years has been "scrap dealers are survivors."
For more than a year now, he has been fighting the toughest survival battle of his marathon career, to save Noble Group Ltd., the Hong Kong-based commodity-trading house he founded in 1986 that rose to become one of the largest in the game. Since 2014, Noble has lost nearly 75 percent of its market value, battered by criticism of its accounting, weighed down by debt and compounded by slumping commodity prices.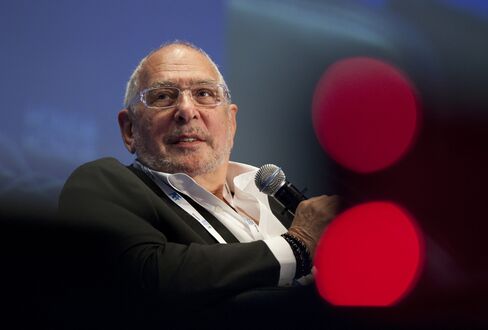 Noble has won a reprieve from its banks, which have agreed to lend the company $3 billion in several loans crucial for its business. But in a sign the lenders are tightening their leash, Noble will have to pledge commodities inventories to guarantee the bulk of the loans and pay much higher interest rates than only a year ago.
The lifeline gives Elman and Noble's chief executive officer, Yusuf Alireza, one year to strengthen the balance sheet of the company. With many prized assets already gone, its bankers are urging the trading house to secure a capital injection from an equity investor or find a partner to help take the trading house private, according to two people with knowledge of the matter, who spoke on condition of anonymity because the talks are private.
More Capital
The company on Thursday said it would deliver "at least an additional $1 billion in liquidity" in 2016, pointing to more asset sales and "other capital raising initiatives", often code for bringing in an outside investor. As Noble's founder and largest shareholder, Elman will play a key role in any deal.
"Elman remains a beacon, both internally and externally," said Jean Francois Lambert, who as former global head of commodity finance at HSBC Holdings Plc, dealt extensively with the firm.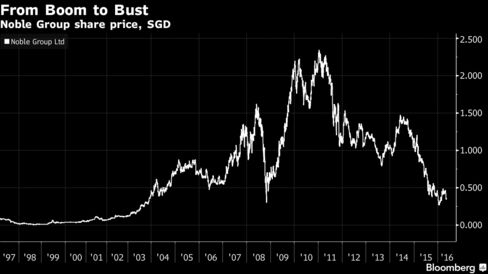 Elman's decades-long ascent to the top of the commodity trading sector began to unravel in February 2015, when an anonymous group called Iceberg Research criticized Noble's accounting. The company dismissed the allegations as the work of a disgruntled ex-employee, Arnaud Vagner, and embarked into ongoing litigation against him.
Iceberg Research
Iceberg, which has declined to confirm whether it's in fact Vagner, has stood by its criticisms of Noble. In comments made via Twitter and on its website, the group has said many of its criticisms have been proved correct, including that Noble would have to write down the value of some of its assets. In addition to Iceberg, short-seller Muddy Waters LLP joined the fray, adding its own criticisms. Noble rejected Muddy Waters' allegations as well.
Some trading rivals reacted by reducing their exposure to Noble as did its own banks. In the first quarter, Noble acknowledged that its lenders cut credit lines worth $1.5 billion, more than 10 percent of its total access to bank facilities. Alireza on Thursday said that "capital constraints" impacted the results and limited the company's ability to take advantage of market opportunities during the first quarter.
Noble Group shares fell 9.7 percent on Friday to 32.5 Singapore cents, extending their decline this to almost 20 percent.
As Noble tried to fend off the attacks and battle the slump in commodity prices, rating agencies Moody's Investors Service Inc. and S&P Global Ratings cut the company's debt to junk. The downgrades hammered Noble's bonds down to about 50 cents on the dollar. They've since rebounded to about 70 cents.
Teenage Laborer
To understand Noble Group -- and its current crisis -- you have to go back to the personal history of its founder. Elman, now 76, started his career as a teenage scrap-metal laborer in England, and built his trading house based on the way scrap dealers do business. He sought bargains amid the rubble, buying assets here and there from shifting sources, always ready to re-shuffle his eclectic collection of businesses as markets shifted.
"We change. That's the way it is," he said in an interview last year from Hong Kong.
For decades, the formula worked, starting with Metal Ore Asia -- Elman's first company, which he sold to the famous trading house Phillip Brothers in 1972. He stayed on with Phibro for a decade as regional director in Hong Kong, before going solo again. A story of financial intrigue at a Hong Kong trading house -- "Noble House" by James Clavell -- inspired Elman to use the name when he started his own company in the late 1980s.
Right Place, Time
Elman was in the right place at the right time. China was about to embark on its unprecedented economic expansion, fed by oil and minerals from across the globe.
"Richard built up the company from scratch," Alireza told shareholders in August.
From a small office in Hong Kong supplying Chinese steelmakers with iron ore, manganese and chrome, Noble grew into a $10 billion Singapore-listed trading behemoth with an investment grade rating and access to unsecured capital. Today, its market value is about $1.7 billion.
Much of that growth came from finding value in scrap. In 1996, he went into coal by buying a business for next to nothing from Phibro, his former employer. In 2001, he added grains, taking advantage of the bankruptcy of Andre & Cie -- at the time one of the world's top-five agricultural traders.
The deal was perhaps his most profitable. Noble sold the agriculture business to Cofco Corp., the largest Chinese food company, for more than $2 billion in two separate deals in 2014 and 2015 that injected much-needed cash into Elman's firm.
U.S. Energy
More recently, his expansion into U.S. energy received a boost in 2010 after Royal Bank of Scotland Group was forced to sell a U.S. power and gas business for $317 million to comply with European state-aid rules after its government bail-out. The business is one of the remaining jewels in Noble's portfolio.
All the while, Elman chopped and changed the business to suit prevailing circumstances. He listed the company in Hong Kong in the early days, only to take it private soon after and then re-list a few months later in Singapore.
In 2009, Elman sold 15 percent of the company, worth $850 million, to China Investment Corporation Inc., Beijing's sovereign wealth fund.
The same year, he went on a buying spree of physical assets -- mines, port facilities -- only to reverse tack later and become a proselytizer for an "asset-light" strategy.
Accounting
The continuous zig-zagging occured during a time of almost insatiable Chinese demand for raw materials. It also sowed the seeds of trouble to come.
Noble Group boosted its income through aggressive -- though entirely legal -- accounting methods. The trader booked profits from projects and contracts that would only materialize years later. While prices soared and the business expanded, the practice was never raised as an issue.
But when the boom petered out, critics including Iceberg alleged those profits would never come to pass. Some of the gains Noble booked depended on projects yet to be started and what critics said were unrealistic price expectations. In February, Noble wrote-off $1.2 billion, largely from long-term coal contracts.
The accounting practices were in contrast to those of privately-owned trading houses such as Vitol Group and Trafigura Group Pte Ltd. These partnerships rarely book profits of forward contracts in order to avoid inflating the value of employees' shares.
Agri Sale
Meanwhile, Elman's asset-buying binge had saddled the company with billions in debt. Backed by an investment grade rating, the capital markets happily financed the acquisitions. But as trouble mounted, Noble was forced to start selling businesses to survive. The company sold its remaining 49 percent holding in agriculture unit Noble Agri Ltd. to majority partner Cofco Corp. for at least $750 million last month to improve liquidity.
While Noble grew far beyond the dreams of its founder, Elman held a grip over the day-to-day operations of a company that now had businesses from Argentina to Japan and from the U.K. to Australia.
He went through two potential successors -- Tobias Brown, who resigned as executive chairman after three months, and former chief executive Ricardo Leiman, who left in 2011, hours after Noble announced its first quarterly loss in a decade.
Leiman, who went on to found a rival trading house now called Engelhart Commodities and backed by Brazil's BTG Pactual, filed a lawsuit against Noble seeking the payment of shares and bonus he claims he is owed. Noble has rejected the claim alleging Leiman solicited Noble employees to join BTG while he was still under contract with Noble. Leiman has denied this.
Share Purchases
Others close to Elman, including Harry Banga, a respected vice-chairman; and Steve Marzo, longstanding chief financial officer, left the firm over the years.
In the end, he picked Alireza, an Egyptian-born and U.S. educated banker from Goldman Sachs Group Inc., as chief executive in 2012.
Perhaps confident of his survival skills, Elman initially dismissed Iceberg's criticisms and criticized others who questioned Noble's accounts. Investors were less dismissive and started to bail. Elman took it upon himself to step-in, buying about 50.8 million Noble shares in at least nine separate transactions over a year. The purchases did little to halt the slide in its stock, which fell 65 percent in 2015. While they rebounded as much as 81 percent from their low in January, they're still 10 percent down in 2016.
Even some of his harshest critics say all isn't over for Elman and Noble. They expect the company can survive, thanks to its bold investment in U.S. oil and gas trading and the support -- even if conditional -- of a core group of loyal banks probably too deeply invested to let the company fall. If not, the empire Elman built may end up being dismantled for scrap.
Before it's here, it's on the Bloomberg Terminal.
LEARN MORE