U.S. Stocks Fall After Disney, Macy's Drab Results Spark Selloff
Consumer discretionary shares post worst drop in 3 months

Earnings results sap momentum after commodities-led rally
U.S. stocks fell for the first time in four days, reversing much of Tuesday's rally as disappointing results from Macy's Inc. to Walt Disney Co. heightened concern that American consumers remain hesitant to boost spending.
The misses from Disney and Macy's sent consumer discretionary shares tumbling the most in three months as investors await Friday's government report on retail sales. Fossil Group Inc. also reported weak results, while earnings from J.C. Penney Co. and Nordstrom Inc. are still on tap this week. Equity losses deepened in afternoon trading as drug developers led declines in health-care and banks erased an advance.
The S&P 500 fell 1 percent to 2,064.46 at 4 p.m. in New York, after rising 1.3 percent yesterday, the most in two months. The Dow Jones Industrial Average sank 217.23 points, or 1.2 percent, to 17,711.12, following a 222-point climb Tuesday. The Nasdaq Composite Index decreased 1 percent. About 7.1 billion shares traded hands on U.S. exchanges, 7 percent below the three-month average.
"Given that equities are about 3 percent away from all-time highs in absence of earnings growth, equities are priced to perfection within a thin margin of error," said Terry Sandven, who helps oversee $126 billion as chief equity strategist at U.S. Bank Wealth Management in Minneapolis. "Yesterday's rally was somewhat unexpected and not the trend that we're likely to see over the next few weeks. By any measure, equities are due for a pullback and will trend sideways over the next year."
After a rally Tuesday sparked by a rebound in commodities prices, results from Disney and Macy's reminded investors that further equity gains remain vulnerable to stumbling corporate profits. Other media, retail and apparel companies were the hardest hit in Wednesday's trading, posting their worst declines since the depths of the correction earlier this year. Behind Disney, Wal-Mart Stores Inc. and Nike Inc. fell the most in the Dow, losing more than 2.7 percent. Kohl's Corp. slid 6 percent, the steepest in three months.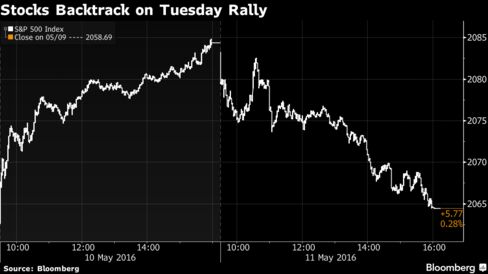 Stocks snapped their longest winning streak since the S&P 500 reached a four-month high on April 20. The benchmark jumped as much as 15 percent from its February low to come last month within 1.4 percent of the record set a year ago, as investors assessed how recovering oil prices and a drop in the dollar will help limit a contraction in corporate earnings. The index has since struggled to extend gains amid lukewarm economic data and lackluster results from giants such as Apple Inc., Microsoft Corp. and today Disney.
As the earnings reporting period winds down, analysts have moderated their predictions for a decline in first-quarter profits for S&P 500 members to 7.4 percent, from 10 percent last month. So far, about 75 percent of the firms that have released results beat earnings estimates, and 54 percent exceeded sales projections.
Fleeting Optimism
"The earnings season wasn't bad if you strip off energy and financials, but you can't just remove everything you don't like," said Ben Kumar, who helps manage about $14 billion at London-based Seven Investment Management. "You have some moments of optimism followed by risk-off days and there's just no real momentum. Oil is steering sentiment again because there's not much else."
Meanwhile, traders are betting the Federal Reserve will be all the more deliberate in tightening monetary policy after data last week showed fewer-than-forecast jobs were added last month. Traders are now pricing in only a 4 percent chance of higher interest rates in June, compared with 22 percent just two weeks ago. The first month with even odds of an increase has been pushed back to February 2017.
In Wednesday's trading, nine of the S&P 500's 10 main industries retreated, with consumer discretionary companies losing 2 percent, while health-care and financial shares dropped at least 1.1 percent. Utilities edged higher, erasing a loss of as much as 0.6 percent.
The CBOE Volatility Index rose 7.8 percent to 14.69, the first climb in five days and the biggest in almost two weeks. The measure of market turbulence known as the VIX is still down about 6 percent this month after rising 13 percent in April.
Disney and Home Depot Inc., part of the top eight contributors to the S&P 500's recovery since February, were among its biggest drags today, falling 4 percent and 2.3 percent, respectively. Within the S&P 500's discretionary group, Staples Inc. dropped the most, down 18 percent after its merger with Office Depot Inc. was scrapped. Office Depot plummeted 40 percent, the most ever.
Macy's Fallout
Macy's slumped 15 percent, the most in seven years. Michael Kors Holdings Ltd., a Macy's supplier and licensing partner with Fossil, sank 12 percent, its worst slide in 11 months. Fossil dropped 29 percent, not as bad as the 34 percent tumble following its quarterly report back in November. Also caught in the fallout, Coach Inc. and Ralph Lauren Corp. lost at least 5.4 percent. Even underwear maker Hanesbrands Inc. sank 4 percent, the most since February.
The nervousness over consumers' wherewithal also pervaded staples stocks, halting the group's longest winning streak in three months after it reached an all-time high yesterday. Drugstore chain CVS Health Corp. retreated 1.8 percent, while Oreo cookie maker Mondelez International Inc. slipped 1.4 percent.
The damage in retail also spread to the landlords, with mall-owning real-estate companies getting battered. General Growth Properties Inc. dropped 5.9 percent, the steepest slide since October 2011. Simon Property Group Inc. lost 5 percent, also the worst since 2011. Real-estate firms in the S&P 500 fell 2.3 percent after closing yesterday at a 15-month high.
Endo International Plc sank almost 13 percent to a 13-year low, leading health-care shares down. Gilead Sciences Inc. and Celgene Corp. lost more than 2.6 percent, while the Nasdaq Biotechnology Index fell 3.1 percent, the biggest drop since March 23, after a 3.4 percent climb over the prior two sessions.
Energy shares wiped out gains in the final hour to close little changed, despite West Texas Intermediate crude rising 3.5 percent to settle above $46 a barrel. Marathon Oil Corp. and Devon Energy Corp. added at least 3.1 percent, offset by declines in Exxon Mobil Corp., Schlumberger Ltd. and Chevron Corp.
Copper miner Freeport-McMoRan Inc.'s 6.9 percent gain wasn't enough to buoy the raw-materials group. Freeport rose as Codelco, the world's biggest copper producer, sees prices rising toward the end of next year as investment cuts hasten a re-balancing of global supply and demand. Vulcan Materials Co. and CF Industries Holdings Inc. lost more than 2 percent to weigh on the group.
Electronic Arts Inc. was the strongest performer in the S&P 500, surging nearly 14 percent, the biggest climb in two years. The video-game maker quarterly results exceeded analysts' estimates, bolstered by online sales to gamers drawn to its sports and "Star Wars" titles. Competitor Activision Blizzard Inc. advanced 1.9 percent, while Take-Two Interactive Software Inc. increased 2.7 percent.
Before it's here, it's on the Bloomberg Terminal.
LEARN MORE