Options offer tax flexibility that restricted shares don't

Executives Zhang, Yu only responsible for 15% tax on income
Sohu.com Inc. is granting stock options to employees for next to nothing.
In an unconventional compensation scheme granted to none of the other 800 executives tracked by the Bloomberg Pay Index, the Beijing-based internet company gave Charles Zhang, its founder, chairman and chief executive officer, 300,000 stock options with a strike price of 0.1 cent in February 2015. Chief Financial Officer Carol Yu got 250,000 at the same nominal price. Both awards were disclosed last month in a proxy statement to the U.S. Securities and Exchange Commission.
"I haven't seen this before," said Barbara Baksa, executive director of the Concord, California-based National Association of Stock Plan Professionals, which has almost 6,000 members across the U.S. who oversee equity plans for businesses.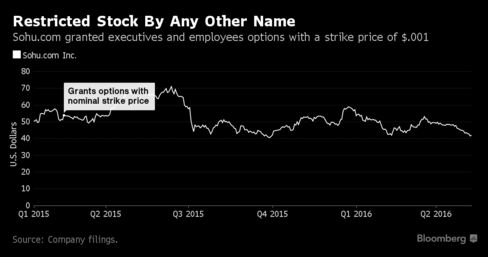 Companies listed on U.S. exchanges, as Sohu is, typically award options with exercise prices that correspond to the values of the shares on the day they're granted. Sohu offered options with a 0.1 cent strike price to give recipients the full value of restricted stock plus flexibility for employees who pay taxes in China, Eric Yuan, a company spokesman, said in a telephone interview from Beijing.
With restricted stock, an executive would need to pay taxes when the shares vest. The tax liability on options is incurred when the holder chooses to exercise them, Yuan said. The option awards were also received by employees outside the executive suite, he said.
"The appeal is choice of timing," said William J. Dunn a partner at PricewaterhouseCoopers in Philadelphia who specializes in executive compensation at multinational companies. That's "really important in countries like China," where the top income tax rate for individuals is 45 percent.
Sohu, which is listed on Nasdaq's Global Select Market, closed at $53.96 in New York on Feb. 13, 2015, the last trade before the options were granted on Presidents' Day, when markets were closed. Zhang's awards were worth $16.2 million at that price. Shares have since fallen 24 percent, cutting the grant's value by $3.9 million.
The options aren't the only governance quirk at Sohu, which owns China's second-largest search engine, as measured by number of queries. Zhang, who owned 20 percent of Sohu as of April 15, maintains sole discretion to indefinitely suspend unvested option awards to himself or employees if he deems performance to be unsatisfactory. Both he and Yu "are responsible for paying income tax equal to 15 percent of their individual income from base salary and bonus," and Sohu "bears their remaining liability for income tax," the company disclosed in the April 27 proxy. It describes that practice as customary in China and necessary to attract talent.
"We believe that restricted stock units, as well as stock options with a nominal exercise price, can be effective in compensating our named executive officers because they reward and serve to retain named executive officers during times where our stock price remains stable," Sohu said in the filing.
In the U.S., where investors are accustomed to a bright line between restricted stock and options, companies don't have the same opportunity. Granting options with nominal exercise prices would incur "substantial tax penalties unless they complied with strict limitations on how they are paid out," Baksa said.
Even if the options were designed to comply with those limitations, the Internal Revenue Service would probably view the arrangement as an award of restricted stock units and tax it that way, she said.
Before it's here, it's on the Bloomberg Terminal.
LEARN MORE