Ringgit Stabilizing Attracts RHB Islamic to Longer-Dated Sukuk
Curve flattens as 10-year yields fall faster than short end

Lower oil prices and subdued China growth priced in, CEO says
RHB Asset Management Sdn.'s Islamic unit is buying into a rally in Malaysia's longer-term sukuk, betting foreign investors will return to ringgit debt.
RHB Islamic International Asset Management Bhd. is favoring the sovereign and corporate debt in maturities of seven to 10 years, Chief Executive Officer Sharizad Juma'at said in an interview. The company sees limited currency weakness in 2016 and expects the key central bank rate to remain unchanged, she said in Kuala Lumpur.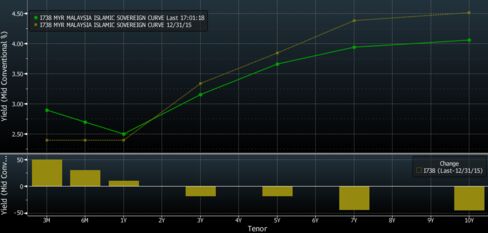 "The ringgit will be quite stable within the weak environment" of slower growth in China and Europe, said Sharizad. "Since the U.S. economy has shown a lot of improvement but may not be strong enough for the Federal Reserve to increase interest rates, you may find the money come back again to Malaysia."
The ringgit is outperforming most Asian counterparts in 2016 after posting the biggest slump last year, and stabilizing crude prices are brightening the oil exporter's outlook. A guarantor of troubled state investment company 1Malaysia Development Bhd.'s bonds stepped in to make a second interest payment on Wednesday, after delaying its obligation on another note in April. The cost to insure the nation's sovereign debt has dropped this year and overseas holdings of government bonds climbed to a record.
Yields on the notes RHB is picking already fell faster than those on shorter-term securities this year. Ten-year yields on Malaysian sukuk declined 45 basis points to 4.07 percent and reached the lowest since June last month. That on the seven-year debt dropped only 39 basis points to 3.93 percent.
Infrastructure Sukuk
RHB also has "quite a big exposure" to infrastructure sukuk, Sharizad said, without giving details. Prime Minister Najib Razak's $444 billion development program to build roads, power plants and railways expires this decade. Many of the projects have been farmed out to private-sector companies that have sold Islamic bonds for financing.
Some 30 percent of the 5 billion ringgit ($1.2 billion) RHB Islamic oversees is invested in Shariah-compliant stocks and the rest is in cash and bonds that comply with Muslim tenets, Sharizad said.
The ringgit has appreciated 7 percent this year, the most in Asia after the yen. It slumped 19 percent in 2015 as oil prices collapsed. The currency is likely to trade around 4.10 to 4.20 per dollar this year, Sharizad said. That compares with 4.0265 as of 11:56 a.m. in Kuala Lumpur on Thursday and the year-end median forecast in a Bloomberg survey of 4.07.
Sarawak Victory
Fitch Ratings said in a statement this week that the risk to Malaysia's credit profile from 1MDB comes more from the potential impact on the policy focus or if it contributes to political instability. Prime Minister Najib has come under criticism because of the state firm's debt and a personal donation from the Saudi royal family, leading to calls for him to step down. He has consistently denied any wrongdoing.
Najib's Barisan Nasional party won a majority in a state election in Sarawak on the island of Borneo at the weekend, which Fitch said shows the spillover effect from 1MDB on politics remains contained. He chairs 1MDB's advisory board, which is due to be dismantled at the end of May.
1MDB's bonds surged Wednesday after Abu Dhabi's sovereign wealth fund paid a $52.4 million interest payment due on 5.99 percent dollar notes it had co-guaranteed. International Petroleum Investment Co. was also in the spotlight in April when it refused to make a similar commitment on a 5.75 percent paper because of a dispute with 1MDB over a loan it made. The Malaysian firm effectively then went into default before IPIC met the obligation.
Global funds purchased 7.8 billion ringgit of Malaysian sovereign bonds in April, boosting their total ownership to a record 194 billion ringgit. They've added to holdings for seven straight months. Overseas investors pulled 30.6 billion ringgit from the nation's debt and stocks in 2015.
"Strategically, we are overweight duration," said Sharizad. "The market is a little bit more visible even though there's a lot of volatility everywhere."
Before it's here, it's on the Bloomberg Terminal.
LEARN MORE