Nordea Explores Tier 3 Debt as Bail-In Planning Reshapes Banking
CEO says in interview Nordea's AA rating would support pricing

S&P's state support view is `very hypothetical,' CEO says
Nordea Bank AB is considering whether to issue a new type of debt to meet rules now being finalized to end government bail-outs, according to Casper von Koskull, chief executive officer of Scandinavia's largest lender.
Nordea's credit ratings would lock in investor demand, von Koskull said in an interview at the bank's Stockholm headquarters. "Nordea is one of the few AA rated banks, and our funding costs already are tight compared to other banks."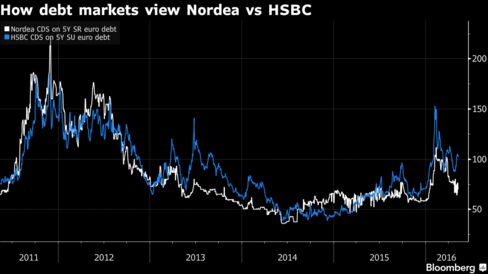 Regulators are telling banks to build up a reserve of capital and debt as the last bulwark against taxpayers being saddled with the cost of a collapse. After months of speculation, Sweden last month signaled its biggest banks will need pools of own funds and eligible liabilities, or MREL, equal to about 32 percent of risk-weighted assets, on average. About two-thirds of that must be debt.
Moody's Investors Service estimates that Sweden's four biggest banks, which besides Nordea include SEB AB, Swedbank AB and Svenska Handelsbanken AB, will face a shortfall of about 588 billion kronor ($72.3 billion) in eligible debt for MREL purposes.
The banks "already have outstanding stocks of senior unsecured debt that exceed the Minimum Requirements for own funds and Eligible Liabilities (MREL) requirements proposed by the Swedish resolution authority," the rating company said on Wednesday. "However, they still face a shortfall because a portion of this debt does not meet the eligibility criteria."
What Qualifies?
What remains unclear is what kind of securities Sweden will accept. The National Debt Office indicated in April that it wants at least some instruments to be subordinated but delayed until next year a decision on how banks must achieve that and by when.
"The bigger question related to MREL is what qualifies: Is it senior unsecured? Is there a Tier 3 instrument coming and if it's coming, how will the pricing look?," von Koskull said. "Long term, we have to decide what instrument we can use."
Options for creating subordinated debt include legislative fiat, issuance through a holding company structure and contract provisions. Should Sweden's choice pave the way for Tier 3 debt, Nordea wouldn't face high costs for the instruments, von Koskull said.
Relative Strength
"At the end of the day, it's a relative game and in the relative game, we are in a very good position," von Koskull said.
MREL is a key component in the Bank Recovery and Resolution Directive, adopted in Europe in 2014 to end government bail-ins. Banks also must write living wills to ensure key operations continue even as they are unwound. Nordea is simplifying its organizational structure, which will make it easier to comply, von Koskull said.
While the plan to convert subsidiaries into branches and create "one bank" predates BRRD, the directive does make it "more complex" to operate Nordea under the existing structure, von Koskull said. Sweden's Financial Supervisory Authority said in March that it will decide whether to approve the proposal "before the summer in 2016."
"I don't see a change in our business, our business strategy, or our business model in any way," von Koskull said of the resolution requirement. "I welcome MREL. This is the piece that ensures that we have a genuine bail-in system."
Alternative Views
Not everyone looks at it that way.
S&P Global Ratings still incorporates government support in its view of Swedish banks, which it doesn't do elsewhere in Europe where BRRD has been adopted. The country's four biggest banks have combined assets that are about four times the size of the economy, and because the failure of any one would threaten financial stability, the government would probably intervene preemptively, according to S&P analyst Alexander Ekbom.
"What S&P is asking is: what if that is not enough?," von Koskull said. "It is a very hypothetical question. The National Debt Office has made it quite clear that we now have a regime under which Nordea ideally could be recovered, but also under which it could be resolved."
Before it's here, it's on the Bloomberg Terminal.
LEARN MORE