SBM Looks to Regain Footing in Brazil Market as Probes Drag On
Offshore equipment provider competing in Petrobras tenders

New U.S. probe isn't targeting SBM, CEO says in interview
Bruno Chabas thought it would be easier to restore the image of offshore oil equipment supplier SBM Offshore NV when he became the chief executive officer in early 2012.
Three months after moving into the executive suite, Chabas decided to go public with what would become Holland's biggest corruption scandal. Schiedam-based SBM announced it had been investigating potentially improper sales, and had disclosed its findings to authorities.
A couple of years later SBM has seen the Africa and Latin America bribery case settled and then reopened in the U.S., and it is still seeking clearance from some Brazilian authorities to operate in the country, its biggest market. The investigations coincide with an industry-wide effort to weather the oil rout by slashing spending on equipment such as SBM's floating production vessels, known as FPSOs. Last year FPSO orders at SBM fell to four globally, less than a third of what the company was expecting as recently as 2013.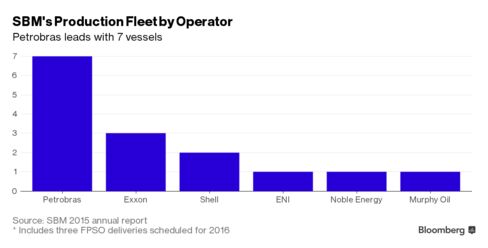 "It was a bit naive on my side," he said in an interview in Houston last week. "When you're being transparent, you also open the door for a lot of questions. A lot more questions than might be otherwise the case."
SBM was blocked in 2014 from taking on new work with Petrobras, which operates the largest offshore oil production fleet on the planet, as part of a wider effort to block suppliers who participated in the graft scheme. In November of that year SBM agreed to pay $240 million to the Netherlands's prosecution office to settle the case of alleged improper payments by sales agents from 2007 through 2011. The Department of Justice dropped the case in the U.S., and Petrobras invited SBM to compete for two FPSOs for the Libra and Sepia offshore fields in September, 2015.
For a moment, SBM appeared to have overcome the scandal.
Then Rio-based prosecutors said Chabas and Chief Compliance Officer Sietze Hepkema failed to cooperate with the investigations, and fined each of the executives 250,000 reais ($72,000) to settle the case. Brazil's Comptroller General's office, the institution known as the CGU that oversees government agencies, has taken longer than expected to clear the company. While SBM can compete in Petrobras tenders, the CGU needs to authorize any individual contract it wins until the case is cleared, he said.
U.S. Department of Justice's probe continues to cast a shadow on the company. SBM said in February it was seeking more clarity about the nature of the reopened investigation. Chabas said the company itself isn't under investigation in the new probe, and declined to offer more details.
"We are not being prosecuted; that's the only thing we can say for sure," Chabas said. "We can demonstrate we are a different company today and we are proud of that."
The FPSO market cratered amid the drop in oil prices as producers cut deep-water projects where costs are higher, Bloomberg Intelligence analyst Andrew Cosgrove said in an interview from Princeton.
"Orders have dried up," Cosgrove said.
Markets are currently very tough, and SBM is forecasting as few as one FPSO award for 2016 and four for 2017, according to information on its website. SBM is likely to face fierce competition for Petrobras' two ongoing FPSO tenders because they are its first orders since late 2014, Rabobank analyst Michel Aupers said in an e-mail.
"There might be chance that SBM will tender at low prices to show that everything is OK in the relationship with Petrobras," Aupers said.
Before it's here, it's on the Bloomberg Terminal.
LEARN MORE