Rising Star Dream Fades as Hungarian Leader Spends to Lure Votes
Orban's new policies to win voters may widen budget deficit

Nomura says chances for move to investment grade have receded
Just as Hungary's case for a promotion out of junk started looking convincing, Prime Minister Viktor Orban is throwing another challenge to ratings firms.
In the past six months, he introduced an incentive to first-time home buyers and announced cuts to retail taxes to stem waning support in opinion polls. By threatening to undo some of the state's progress in reining in a fiscal deficit, the policies endanger Hungary's chances of convincing Moody's Investors Service and Fitch Ratings it's ready to rejoin the club of high-grade sovereigns, according to Nomura Holdings Plc and Morgan Stanley.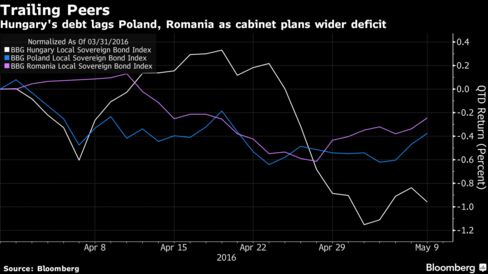 Both ratings companies, which rank Hungary at their highest non-investment grades, turned to a positive outlook last year as the nation's debt burden eased, economic growth accelerated and Orban scaled back a bank tax introduced in 2010 that was part of the reason the sovereign lost its investment-grade credentials in the first place. The latest policy U-turn is being felt in the bond market, where 10-year sovereign debt has underperformed all emerging-market peers in the past month.
"The government's change of course shows it's abandoning a target for a credit-rating upgrade," said Peter Attard Montalto, a London-based senior emerging-markets economist and strategist at Nomura, who says the probability of an upgrade has receded since the start of the year due to the shift in budget policy. "The government is realizing there's a need for a greater populist reaction to support growth and sustain support for Orban leading up to elections."
Winning Voters
While the ballot is still two years away, Orban is seeking to rebuild support that's taken a hit following protests by teachers, opposition efforts that forced the government to backtrack on an unpopular ban on shops opening on Sundays and revelations about lavish spending at the central bank. Backing for the ruling Fidesz party dropped to 27 percent in April among eligible voters, from 31 percent in January, according to polling by Tarki.
For months, investors expecting an upgrade was only a matter of time piled into Hungarian debt to the point that a return to high-grade credit credentials was "universally anticipated and mostly priced in," Bank of America Merrill Lynch said in a research report in April. The yield on 10-year securities slid as low as 2.95 percent on April 15, taking it below the rate on similar Polish debt, which is rated five steps higher at Moody's Investors Service.
The rally has since unraveled, with yields climbing 41 basis points since that trough, in part as the potential for an upgrade became more elusive.
Backing Slips
Fitch Ratings, which lifted Hungary's outlook to positive a year ago, warned in November that a relaxation of budget policy would be "rating negative." The company will next review its position on May 20.
S&P Global Ratings, too, said it would regard fiscal expansion leading up to elections as a downside risk to government finances, according to Aarti Sakhuja, an associate director in Madrid. "Any higher-than-budgeted revenues will be diverted toward government expenditure or will be offset by tax cuts in other areas, rather than serve faster deficit reduction," she said.
Widening Shortfall
After slashing its budget deficit to 2 percent of gross domestic product in 2015, the smallest for any year according to Bloomberg records going back to 1995, the government is now projecting the shortfall will widen to 2.4 percent of gross domestic product next year.
Still, that's down from 5.5 percent of GDP in 2011, the year that Orban sparked a selloff in Hungarian assets by seizing 3 trillion forint ($11 billion) in pension savings. While unpopular, that move and the bank tax introduced a year earlier helped prop up state finances.
Since then, the premier has sought to rebuild trust. He cut the bank levy by half to 0.24 percent of assets starting this year, and purchased stakes in several lenders including a planned 15 percent of Erste Group Bank AG's Hungarian unit, in a sign of commitment to an industry he earlier alienated.
The efforts have bolstered investor perceptions of the country. Credit-default swaps to insure against non-payment for five years, which have tumbled by 75 percent in the past four years, fell 16 basis points in 2016 alone to 149 basis points on Wednesday.
Upgrade Odds
While Morgan Stanley puts the odds at 60 percent for Fitch to re-institute the country's high-grade standing in May, derivatives traders are less convinced. The rating implied by CDS at Moody's remains unchanged at Ba1, the highest junk score, according to data of Moody's Analytics. Among potential drivers of fiscal spending are plans to expand the Paks nuclear plant and Hungary's bid to host the 2024 Summer Olympic Games.
"There is a risk that Fitch may choose to wait until later this year," said Pasquale Diana, an economist at Morgan Stanley in London. While the bank tax reduction and Erste stake purchase are welcome developments, the news on fiscal easing in 2017 is "less positive," he said.
Before it's here, it's on the Bloomberg Terminal.
LEARN MORE