Securities rose 2% in week to May 9, beating developed peers

Market pricing in further central bank rate cuts this year
Australia is headed to the polls with a mounting debt burden, yet thanks to central bank easing investors are cutting its borrowing costs with a world-beating bond rally.
Local sovereign securities surged 2 percent in the week to May 9, the most among developed-market peers tracked by Bloomberg World Bond Indexes. The rally was helped by disappointing inflation data that prompted the Reserve Bank of Australia to cut its cash rate for the first time in a year, with the 10-year yield sliding to within a basis point of a record low on Tuesday. Australia's 20-year bond yields just 2.93 percent, less than the 2.96 percent on three-year notes at the time of the previous federal election in 2013.
While the shift down in yields is a global phenomenon fueled by record monetary easing from Tokyo to Frankfurt, RBA officials gave local rates an extra nudge when they said core inflation will probably only bottom out in the next two years. Swaps traders are betting the central bank's key rate will fall to 1.39 percent in a year from 1.75 percent.
Getting Lucky
"The government's just lucky because the RBA is easing, so maybe they don't have to pay up as much as they would have otherwise to be issuing all these bonds," said Skye Masters, the head of interest-rate strategy in Sydney at National Australia Bank Ltd. "Given that they continue to forecast outstandings to grow, and our view that yields are unchanged to higher, then interest payments are probably going to gradually edge higher, but not significantly."
The following charts underscore the nation's lower borrowing costs and how the government is using them to finance budget deficits that it anticipates will extend for another four years.
CHART 1: Australian bond yields are lower than they have been at the time of previous federal elections. The benchmark 10-year yield has fallen to 2.32 percent from 4.14 percent when the September 2013 vote ushered in the current Liberal Party-National Party coalition. Voters are scheduled to go to the polls on July 2.
CHART 2: That cheaper finance is likely to be welcomed by the government as the record amount of bonds on issue continues to grow even as net debt is projected to peak in the financial year ended June 2019.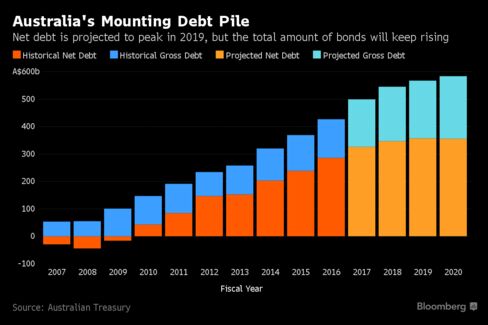 CHART 3: While Australia's net debt has climbed as a proportion of gross domestic product, its interest payments are set to remain at about 0.7 percent of the economy for a fourth year in the 2016-17 fiscal period, according to budget estimates.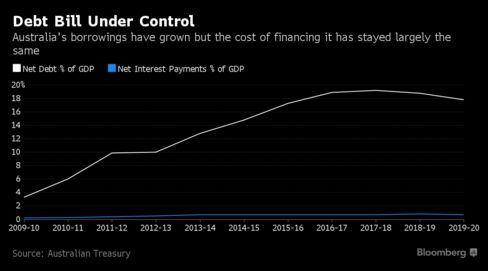 CHART 4: One way the government has dealt with its larger debt has been to issue longer-maturity bonds. In 2015, the Australian Office of Financial Management sold both nominal and inflation-linked notes with tenors of more than 23 years.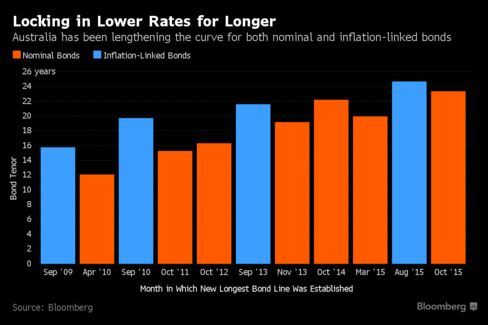 CHART 5: The government's assumptions about the interest rates it will have to pay have fallen. Budget documents released by Treasurer Scott Morrison last week indicate an assumed weighted-average yield for new bonds of 2.5 percent over the coming four years, down from 3.9 percent shortly after the Liberal-National coalition came to power in 2013.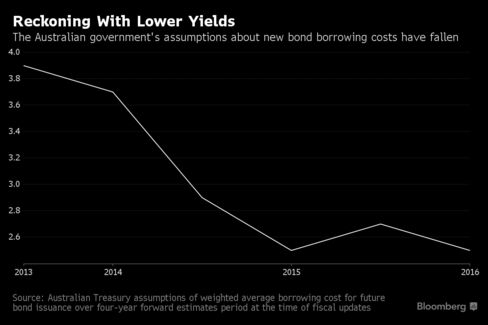 Before it's here, it's on the Bloomberg Terminal.
LEARN MORE