Inflation at 20-Month High in Egypt Adds Pressure to Raise Rates
Prices are rising after biggest one-time devaluation of pound

Central bank has said it wants to avoid double-digit inflation
The rate increase that followed the biggest one-time devaluation of the Egyptian pound in March may represent the start of a tightening cycle, as prices rose at the fastest pace in 20 months.
Annual core inflation, a gauge of price increases of non-volatile consumer goods, reached 9.51 percent last month, the highest level since August 2014, the official statistics agency said on its website. Headline inflation in urban areas rose to 10.3 percent, the highest since January.
With planned government measures including the introduction of a value-added tax expected to add their own inflationary pressure, Egypt's central bank will likely raise interest rates again this year, said Hany Farahat, senior economist at Cairo-based CI Capital Holding. "The rise in inflation is a very natural and expected result in a country that just devalued its currency," he said.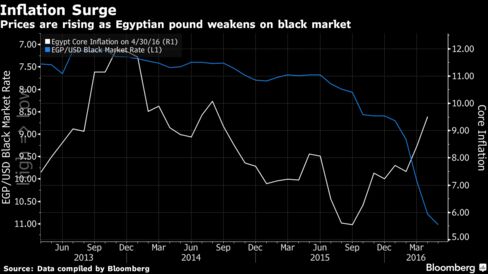 The bank raised benchmark interest rates by 150 basis points to the highest level since 2008 in a bid to boost the pound's attractiveness following a devaluation aimed at eradicating the black market. The strategy is yet to work, with Egypt still waiting for inflows that would ease its dollar shortage and the pound still over 20 percent weaker than the official rate in illegal trading.
The pound was little changed at 11.02 per dollar in black market trading on Tuesday, compared with the official rate of 8.88, according to the average quote from three dealers in Cairo and Alexandria surveyed by Bloomberg.
In its monetary policy committee meeting on April 28, the central bank kept rates unchanged in expectation of a "lagged effect" from the March increase. The bank said in December it aims to avoid "double-digit inflation rates over the medium term." The next rate meeting is scheduled for June 16.
Egypt's government has submitted a draft law to parliament to introduce value-added taxes, and also has a plan to cut energy subsidies. President Abdel-Fattah El-Sisi said last month the government will calculate the increase in the price of key goods resulting from the weakening of the pound, and pledged to compensate the poor.
Before it's here, it's on the Bloomberg Terminal.
LEARN MORE