China's Consumer Inflation Continued Firming Trend in April
Consumer-price index climbed 2.3% for a third straight month

Factory-gate deflation eased more than economists estimated
China's consumer prices continued rising at a healthy clip, though still below the government's target pace, while factory-gate deflation narrowed more than expected.
The consumer-price index rose 2.3 percent in April for a third straight month, matching economist estimates in a Bloomberg survey. The producer-price index fell 3.4 percent, less than the 3.7 percent decline analysts estimated and the 4.3 percent drop in March.
Stronger inflation, mainly driven by food prices, may give the People's Bank of China reason to hold off on reducing the main interest rate, which is already at a record low. Four years of factory-gate deflation has eased as a property recovery helps demand.
"The economy is improving," said Ding Shuang, head of greater China economic research at Standard Chartered Plc in Hong Kong, adding that pork inflation was the major driver boosting CPI. Considering the warning yesterday from a top Communist Party official about risks associated with soaring debt levels, "we see a moderately prudent monetary policy in the near future."
For the third time in less than a year on Monday, the People's Daily published an extended interview with an unnamed official expounding the policies needed to address economic challenges. Excessive debt was China's "original sin" and the country can't borrow its way to long-term economic health, the official said.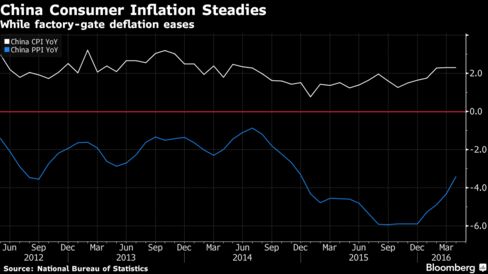 Food prices climbed 7.4 percent from a year earlier, National Bureau of Statistics data showed. Non-food inflation was 1.1 percent last month.
Consumer prices for food got a major boost from pork, a staple of the Chinese diet, which jumped 33.5 percent from a year earlier. Fresh vegetable prices climbed 22.6 percent from a year earlier, less than the 35.8 percent jump registered the prior month.
Consumer prices also got a lift from health care, pre-school education and consumer services year-on-year, while holiday weekends at the beginning and end of April both helped to push up airfares and hotel prices last month, a statistics bureau official said in a report that accompanied the data release.
Stocks closed almost unchanged Tuesday after Monday's decline in the Shanghai Composite Index, which tumbled 2.8 percent to a two-month low. The benchmark for Chinese equities is down 20 percent this year.
Producer prices rose 0.7 percent from the prior month for the first back-to-back increase since late 2013. They rose 0.5 percent month-on-month in March.
Watch next: China Inflation Remains Soft, Says Crossbridge's Singh
"The acceleration of PPI inflation in the past two months is largely due to surging steel prices pushed up by speculative flows, rather than improving demand," Zhou Hao, an economist at Commerzbank AG in Singapore, wrote in a note. "As long as the underlying demand remains sluggish, we think that PPI inflation is likely to turn soft soon. Balancing all these factors, we believe that China's monetary policy stance will remain accommodative."
Producer prices for mining fell 13 percent from a year earlier, while raw materials dropped 7.7 percent and manufacturing decreased 2.5 percent. Food and clothing both increased 0.7 percent at the producer level.
Credit expansion has accelerated producer price inflation, "indicating a moderate recovery of both the manufacturing industry and the whole economy," according to Zhu Qibing, an analyst at China Minzu Securities Co. in Beijing. "We don't see major policy changes in the following months before the leadership draws a clearer picture."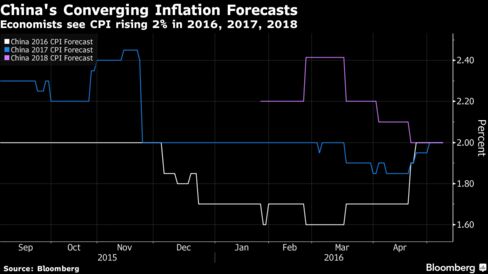 Consumer inflation will remain consistent in coming years, according to a Bloomberg survey of economists. Consumer prices will rise 2 percent this year as well as the next two years, they said. Producer prices will narrow declines from 4 percent this year to a 1.8 percent drop in 2017 and then increase 0.2 percent in 2018, analysts said last month.
— With assistance by Jeff Kearns
Before it's here, it's on the Bloomberg Terminal.
LEARN MORE