Bets for Saudi Devaluation Jump Most in 4 Months on New Governor
Twelve-month riyal forward contracts surged 80 basis points

The kingdom named new central bank chief on Saturday
Contracts used to bet whether Saudi Arabia will allow its currency to weaken rose the most in four months after the kingdom replaced its central bank governor.
Twelve-month contracts for the riyal climbed the most since January on Monday, the first trading day after deputy Governor Ahmed Alkholifey was appointed the head of the Saudi Arabian Monetary Agency. His promotion has reignited speculation the kingdom may reconsider the level of its exchange rate.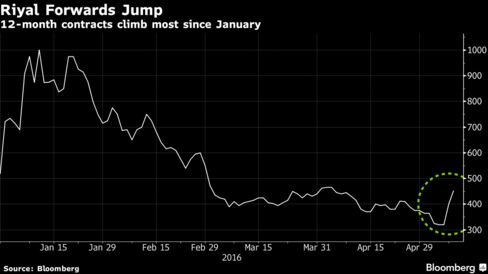 The increase is a reminder of the strain Saudi Arabia's finances have been under as oil, its main source of income, sank about 60 percent in two years. The nation has been dipping into its foreign reserves and was forced back to the bond market last year for the first time since 2007 to help plug a widening budget deficit. The kingdom's foreign reserves have declined 14 straight months to $579 billion in March, the lowest level since 2012.
"The change in riyal forwards is purely due to speculation," Anita Yadav, the head of fixed-income research at Emirates NBD PJSC, the United Arab Emirates' biggest bank, said by phone from Dubai. "The market maybe thinks that under him, they may be more open to changing the peg."
The riyal is pegged at 3.75 per dollar. One-year forwards for the currency increased 80 points on Monday to 400, according to data compiled by Bloomberg. They climbed another 52.5 points as of 3:29 p.m. in Riyadh.
Peg Wagers
PointState Capital's Zach Schreiber, who made $1 billion betting against oil two years ago, is wagering that weaker long-term crude prices and rising costs will cause the country to abandon the peg, he said last week. Pershing Square Capital Management has made similar bets.
The forward contracts rose on Monday even after Alkholifey told Saudi state television a day earlier that officials will maintain a "cautious, balanced policy." His appointment was one of more than 50 royal decrees that were issued on Saturday in the third major government overhaul since King Salman ascended the throne in January 2015.
Before it's here, it's on the Bloomberg Terminal.
LEARN MORE