Turkey Stocks Climb as Valuations at 2-Month Low Lure Investors
Ratings outlook confirms Turkey `on right path': Ata Portfolio

Stocks gauge advances following oversold signal on Friday
Turkish stocks advanced as the lowest valuations in more than two months lured investors back to a market that lost almost $25 billion in six days.
The Borsa Istanbul 100 Index closed up 0.9 percent in Istanbul, the steepest increase in almost three weeks and ending the longest losing streak since August. S&P Global Ratings on Friday upgraded Turkey's outlook to stable from negative on continued growth even as violence both at home and abroad escalates, signaling its economy remains on the right track.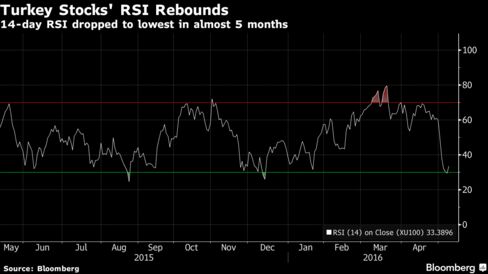 "The plunge last week has given an opportunity to enter to those who have missed the previous rally," Mehmet Gerz, the chief investment officer at Ata Portfolio in Istanbul, said by e-mail. "While S&P's outlook upgrade is not an essential catalyst for investors, it was a confirmation that Turkey's macro background is on the right path."
Turkish stocks had their worst week since December 2013 in the five days through Friday after a showdown between President Recep Tayyip Erdogan and Prime Minister Ahmet Davutoglu led the premier to announce his departure on Thursday. Deputy Prime Minister Mehmet Simsek will be the last man remaining from a team that investors say is behind Turkey's economic boom years.
Valuations
The $720 billion economy posted the third-fastest growth among the Group of 20 nations in the fourth quarter, and its current-account deficit narrowed to $1.79 billion in February from $3.31 billion a year earlier.
Monday's stock advance halted a six-day losing streak. Companies on the main gauge traded at about 8.4 times expected earnings on Friday, the cheapest since Feb. 26, as the index's 14-day relative strength index fell below 30. An RSI reading below 30 signals to some technical analysts that a measure has dropped too fast and may be poised to rebound.
The index has also rebounded after closing below its 50 percent Fibonacci level last week. Certain Fibonacci percentages, which show how much of a loss a security has recovered from a low to a high, tend to act as support and resistance levels.
The nation's largest lenders by market capitalization, Turkiye Garanti Bankasi AS and Akbank TAS, were the biggest contributors to the increase on Monday with gains of 1.3 percent and 1.6 percent, respectively.
Volatility
Volatility continued to climb amid speculation over who will lead the government after the ruling Ak Party's convention on May 22, when Davutoglu's term will end.
The Borsa 100's 30-day historical volatility rose a fifth day to 20.64, the highest since March 2. The two-week implied volatility for the lira, a gauge of price swings, climbed 5.2 percent, the most among 21 emerging-market currencies tracked by the Bloomberg.
The lira fluctuated between gains of as much as 0.5 percent and losses of as much as 0.4 percent before trading 0.4 percent lower at 2.9385 per dollar at 5:53 p.m. in Istanbul. Bonds fell, pushing the yield on two-year four basis points and the yield on 10-year notes up eight to 9.72 percent and 9.94 percent, respectively. The government's 10-year dollar bond due April 2026 rose to $97 after dropping five straight days.
"The lira and local assets are likely to be sensitive to any market speculation regarding potential candidates for prime minister," said Piotr Matys, a strategist for emerging-market currencies at Rabobank in London. "Even more importantly, any speculation that the well regarded Finance Minister Simsek may not retain his post once the government is reshuffled would be a negative signal for the lira."
Before it's here, it's on the Bloomberg Terminal.
LEARN MORE