Robin Hood Gala Still Takes From Rich, Just Broader Swath
Tudor Jones vows to persevere with help of millennials

`Night for NYC' includes multiple events in outer boroughs
When the masters of the universe gather Monday night for their annual big-give to fight poverty, they'll have Jim Gaffigan providing comic relief and Usher offering up a rousing musical act. It might not be enough to get their spirits soaring.
Presidential candidates backed by many on Wall Street proved unpopular with voters. Profits are plunging at investment banks. And hedge fund investors are pulling more money. The Robin Hood Foundation will still be urging core donors to open up their wallets -- last year's haul, more than $100 million, sets the bar high -- but the request will come with a new assurance: They will not carry the burden alone.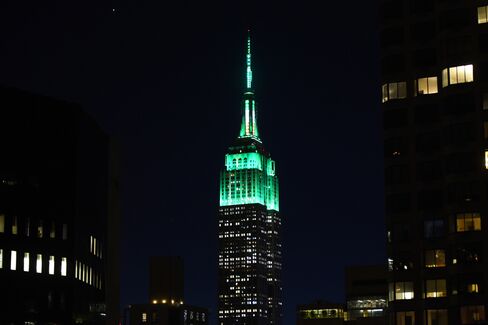 This year Robin Hood is making a special effort to highlight support from outside the finance industry. A challenge grant presented at the benefit to coax donations will be coming from the Bezos Family Foundation. (Last year it came from Bill Ackman's Pershing Square Foundation.) Ford Motor Co. will be part of a ceremony presenting a new van to New York Common Pantry, and PepsiCo is funding 10,000 free tickets to Yankee Stadium for people served by organizations funded by Robin Hood.
In what's been named the Night for NYC, BlackRock is sponsoring concerts at Irving Plaza and Terminal 5, where the attire is "green tie." About 3,300 guests are expected to see Chance the Rapper and Citizen Cope perform, with the option of an after-party at Vandal -- the portion of the evening designed to appeal to millennials.
"Poverty's not going away, so identifying, training and getting ready the next generation who can take on this horrible foe is clearly one of the most important things we can do right now," said Paul Tudor Jones, a Robin Hood founder, in a video posted on the ticketing website for the concerts.
Tudor Jones helped start Robin Hood when he was 33. He's now 61, and not planning to retreat from the cause.
"Does that guy seem ready to pass the baton? He's got more energy than 10 20-year-olds," said David Saltzman, another founder and the long-serving executive director of the organization. "We're in this until the bitter end. All we want to do is maximize the opportunity to help people and maximize the opportunity for people to give at any age and any price point and in any way that makes sense for them."
First Pitch
At Yankee Stadium, ticket holders will see two seniors from Robin Hood-supported KIPP NYC College Prep High School throw the first pitch in the game against the Royals. Four Brooklyn food and drink spots -- Freek's Mill, Union Pool, Black Flamingo and Montana's Trail House -- will be donating a portion of cocktail sales.
With 1.8 million New Yorkers living in poverty, the foundation that funds and provides technical assistance to 200 nonprofits is also emphasizing pure participation. About a month ago it began a "pictition" inviting anyone to "show the world you care about your fellow New Yorkers in need" by adding their picture to an online mosaic.
Oaktree, Glenview
Robin Hood has always sought ways to build a big tent. The board early on recruited media and entertainment executives to help its cause, and guests and event chairmen from other industries have helped make the gala an occasion for years. At the Javits Center this year, David Cote, chief executive of Honeywell, and Mark Fields, CEO of Ford, are chairmen along with Howard Marks of Oaktree Capital and Larry Robbins of Glenview Capital.
"People often think of Robin Hood as the financial world's efforts to help New Yorkers in need," Saltzman said. "Despite its reputation as an effort of just a few, it's always been a large community of caring people."
The organization has had 360,000 donors in its 28-year history, he said.
Even New Yorkers not participating in the array of scheduled events will see a glimpse of the effort in the city skyline: The Empire State Building, Bloomberg tower and Madison Square Garden will be lit Robin Hood green for the night.
Before it's here, it's on the Bloomberg Terminal.
LEARN MORE