Republican Governor Plays Nice With Democrats, And Wins Over GE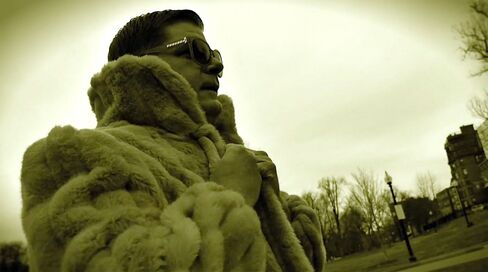 Charlie Baker of Massachusetts rules over a blue state

`At the end of the day, most people want government to work'
The video opens with Adele's haunting song, "Hello." A heartbroken Democratic Boston Mayor Marty Walsh, wearing an Adele-style fur, repeatedly phones his buddy, Republican Massachusetts Governor Charlie Baker. Finally, they connect so they can work on convincing General Electric Co. to move its headquarters to Boston.
Behind the silliness produced for a St. Patrick Day's roast was a serious instance of bipartisanship that paid off. Walsh and Baker landed GE, and the governor teaming up so agreeably with the opposition was no surprise. Baker appears to be guided by the notion, apparently outdated in light of the polarizing presidential primaries, that both parties should focus on important tasks at hand and not on attacking each other.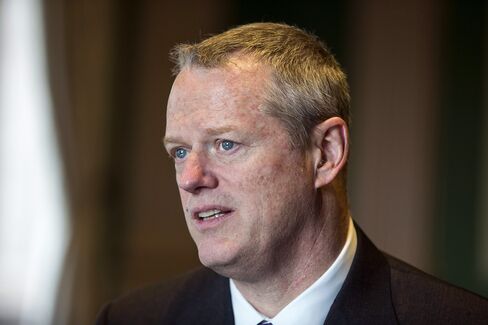 "People can say what they want about screaming from the ramparts," he said in an interview at the Massachusetts State House. "But this is an approach to government that works, and I believe we are building a case for it."
Taking office in January 2015 as the state's 72nd governor, the former healthcare executive is living up to blue Massachusetts's expectations of him, as heir to a line of moderate Republicans including William Weld and Paul Cellucci, both mentors of his, and more recently Mitt Romney.
Healthy Economy
Baker has tapped many Democrats to fill cabinet posts. Last year he pushed an expansion of the earned income tax credit for low-income families, a decidedly Democratic idea, and compromised with Democratic leaders to get a bill passed. Then came the big score with Walsh. GE will complete its relocation from Fairfield, Connecticut, in 2018.
Jeffrey Immelt, GE's chief executive officer, cited the bipartisan collaboration as essential to closing the sale. As Baker, 59, put it, "There wasn't an inch of daylight between the state and city."
He presides over an economy that looks to be getting healthier under his watch. The March unemployment rate of 4.4 percent is the lowest in Massachusetts since 2001, falling the past six months faster than the rest of the U.S., according to data compiled by Bloomberg. The economy's improvement is the best since 2000, ranking No. 6 in the nation behind Oregon, North Carolina, Michigan, Washington and Utah last year, according to the Bloomberg Economic Evaluation of States. The BEES index measures employment, mortgage delinquency, personal income, tax revenue, house prices and corporate equity.
House Divided
Robust too is the bond market. State transportation issuers have produced a 7.02 percent return, outperforming the U.S. average of 6.15 percent during Baker's time. Municipal bond-issuers have handed investors a 6.34 percent return, beating the national average, data compiled by Bloomberg shows.
The lean, six-foot-six Harvard graduate was secretary of health and human services under Weld and administration and finance secretary for Weld's successor, Cellucci. In 1999, he was hired to run Harvard Pilgrim Health Care Inc., one of the state's largest providers. In 2010, he lost the governor's race to incumbent Democrat Deval Patrick. Four years later, he prevailed against Democrat Martha Coakley.
His comity comes by way of a house divided. His father, a Republican, served in the administrations of Richard Nixon and Ronald Reagan, and his mother, a Democrat, would lead lively dinner-table conversation on the issues of the day. He learned to appreciate both sides. "My friends joked that I'd have to provide them a helmet if they were invited,'' he said.
No-Flash Intellect
Baker talked excitedly about what GE will bring but also what is already in place, including the largest industry, health care. Total market capitalization is $262 billion, the fourth biggest in the U.S., according to data compiled by Bloomberg. He praised technology firms like Thermo Fisher Scientific Inc., with more than 50,000 employees worldwide, based in a "not flashy" former supermarket.
"A lot of our companies are very low-key,'' he said. "Their flash is in their intellect and their product line.''
Major companies domiciled in the state represent a range of industries from biotech to semiconductors and retail apparel. The diversity stands in contrast to states like Texas, where most top employers come in one flavor, in this case the oil and gas industry, which is struggling at the moment.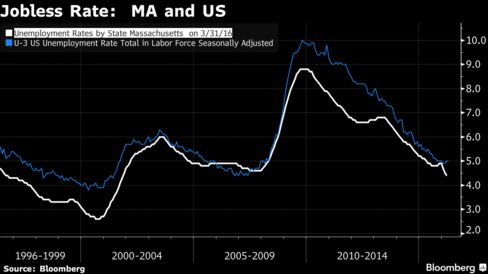 To maintain the mix, Baker said he's committed to being a good manager focused on education or skill-building and infrastructure. After his first winter in office in 2015, Boston's snowiest on record, Baker took aim at the repair and overhaul of the ailing transit system, the MBTA.
No To Trump
His job approval rating was at 70 percent in a Suffolk University poll late last year. He has been praised for his performance by state Democratic leaders including veteran Congressman Edward Markey. Secretary of State William Galvin, a Democrat who has held the elective post since 1995, credits Baker for his work on the state's opioid crisis, though he has said he finds Baker more reactive than proactive on issues.
Baker waded into controversy last month when he refused to say whether he supported or opposed a transgender public accommodation bill, telling an audience of transgender activists that he would get the viewpoint of all sides before making up his mind. He was booed off stage. His press office released a statement after that saying Baker supports transgender rights, that people ought to use the bathroom they're comfortable with and that he looks forward to reviewing the bill when it lands on his desk.
In the interview, he was asked about the controversial bill signed into law by North Carolina Governor Pat McCrory that requires people to use public restrooms that correspond to their biological sex. Would Baker sign such a bill? "No,'' he said emphatically.
Baker endorsed New Jersey Governor Chris Christie for president but told reporters he was surprised when Christie endorsed Donald Trump. Baker has since said he would not vote for Trump because he vehemently disagrees with him on too many issues. In media interviews, he has cited statements Trump has made about women and Muslims.
"At the end of the day, most people want the thing to work,'' he said of government. Political drama may be entertaining in small doses, "but I don't think, over time, it moves the electorate. I really don't.''
Before it's here, it's on the Bloomberg Terminal.
LEARN MORE