Redstone Ex-Girlfriend's Lawsuit Over Competency May Be Tossed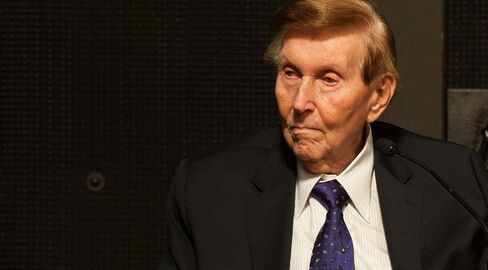 Sumner Redstone's fight to be rid of a former girlfriend may be granted by a Los Angeles probate judge who tentatively ruled against her lawsuit alleging the 92-year-old media billionaire was mentally incompetent.
If the judge makes his proposed ruling final, it could end the case on the second day of a trial and avoid a further public airing of the infighting among the Redstone family, some of his former girlfriends, and the nurses who take care of the former Viacom Inc. and CBS Corp. chairman.
The trial opened Friday with Redstone's videotaped testimony in which he used expletives to describe his former lover, Manuela Herzer, and said he wanted her out of his life. While the recording confirmed Redstone was in frail health and required help speaking, his wish for Herzer to have no role in his health-care decisions was clear.
"Restone's testimony has ultimately defeated her case," Los Angeles Superior Court Judge David Cowan said. "Though Herzer may have believed that Restone would not be able to say anything, or be able to understand the questions, he did both."
Before it's here, it's on the Bloomberg Terminal.
LEARN MORE