Crime-Busting Mayor Claims Philippine Presidential Victory
Duterte's lack of economic experience unnerves markets

Race for vice presidental post remains too close too call
Rodrigo Duterte, the tough-talking mayor who tapped voter frustrations over crime and inefficient public services, claimed victory in the Philippine presidential election.
With 90 percent of polling stations reporting, Duterte won 39 percent of ballots cast in Monday's election which was held amid sporadic violence and delays. His closest rival was Mar Roxas, a former government minister, who had 23 percent support.
Seeking to break the establishment mold exemplified by outgoing President Benigno Aquino, voters embraced Duterte's promises to reduce traffic jams on Manila's congested roads and curb graft. His support didn't falter through a campaign that saw him make light of a rape incident, deny accusations of undeclared wealth and back the extra-judicial killing of criminals.
Claiming victory during a local TV broadcast in which he spoke for more than two hours, Duterte emphasized the fight against crime as his priority.
"I will be a dictator against all bad guys, evil," he said. "I will do it even at the cost of my position or my life. I won't stop. That's a solemn commitment."
Uncertainty linked to the election -- particularly Duterte's lack of economic experience and a lack of clarity on policy -- pushed investors to the sidelines beforehand. The peso weakened 1.9 percent against the dollar in the past month, while the Philippine Stock Exchange Index dropped for a third straight week, falling 2.3 percent. Financial markets in Philippines were closed on Monday.
The one-month peso forward was little changed as of 6:33 a.m. local time on Tuesday, after falling 0.3 percent to 47.40 per dollar in the previous session in New York. The country's dollar-denominated bonds due in 2041 advanced Monday, sending yields down three basis points to 3.29 percent, according to Bloomberg Bond Trader prices. The iShares MSCI Philippines exchange-traded fund declined 2.2 percent to a two-month low.
'Stands For'
"It's a bit of a step to the unknown, really," Gareth Leather, an economist at Capital Economics Ltd. in London, said by phone. Duterte "didn't say a great deal about the economy on the campaign trail. People don't really know what he stands for, which is a big concern."
Born in Southern Leyte province in the central Philippines, Duterte, whose lawyer-father was governor of the old Davao province, worked as a prosecutor in Davao for nine years before becoming vice-mayor in 1986. Two years later he took over as mayor, a post he has since held seven times. Once notorious as the nation's murder capital, Davao is now one of the country's safest and more prosperous cities.
"For six years all I have to do is work," Duterte said. "Judge me not with the newspaper articles they come up with everyday. Judge me at the end of my term. If I do bad, shoot me."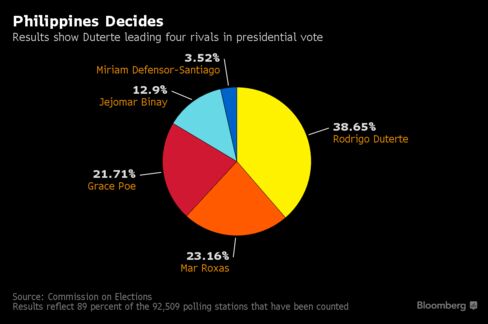 Duterte hinted at possible cabinet appointees, telling reporters in Davao City on Monday that he may tap his childhood friend Carlos Dominguez, who worked as agriculture secretary for the late President Corazon Aquino, to head the finance or transportation departments.

Another friend, classmate Jesus Dureza, who was press secretary to former President Gloria Arroyo, may lead a peace panel, while the job of foreign minister may go to his running mate Alan Cayetano, Duterte said.
Duterte said the Philippines will take a multilateral approach for now to its territorial disputes in the South China Sea, including working with the U.S., Japan and Australia. On May 1 he said he'll push for bilateral talks with China if the broader process doesn't bear fruit in two years.
White House press secretary Josh Earnest said the U.S. would wait until the election results were certified to comment. "When it comes to resolving the claims in the South China Sea, the United States is not a claimant," but urges those who are to resolve their disputes through diplomacy, he said.
The race for vice president was much tighter. Latest results showed Congresswoman Leni Robredo overtaking Ferdinand Marcos Jr, whose dictator father was ousted in 1986, with a lead of just 60,000 votes.
The prospect of a Duterte-Marcos administration would send shock waves through the political establishment as it'd mean an unorthodox president coupled with a vice president who has not sought to strongly distance himself from his father's era, said Eufracia Taylor, an Asia analyst at risk consultancy Verisk Maplecroft.
"Duterte may well find that winning the election was the easy part," she said. "The need to navigate the political elite in Manila and add substance to his grandiose promises is likely to prove the greatest challenge."
Before it's here, it's on the Bloomberg Terminal.
LEARN MORE