Chinese Imports From Hong Kong Raise Red Flag Amid Yuan Worries
Import surge from Hong Kong may show capital exit, OCBC says

FX reserves shrank if adjusted for valuation effects: Goldman
China's problem with fake trade invoices appears to be getting worse.
Imports from Hong Kong surged a record 204 percent last month, data on Sunday showed, intensifying the spotlight on a channel used to get capital out of the country. While the value at $2.1 billion is relatively small, the suspected use of phantom goods to secure hard currency shows concern persisting among Chinese savers and companies that the yuan will weaken.
"As long as there is an expectation of yuan depreciation against the dollar, there will be a massive outflow of funds," said Iris Pang, Hong Kong-based senior economist for greater China at Natixis Asia Ltd. "As long as channels under the capital account are still semi-closed, trade will remain a shadow channel for fund outflows."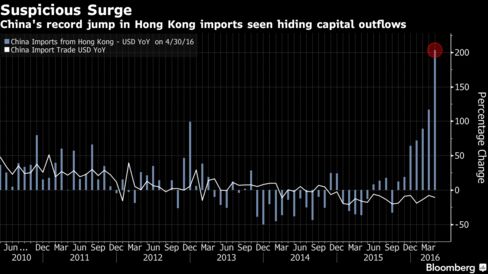 Speculation that China's trade channels are being manipulated is widespread among economists. They say the spike in April follows similar patterns in recent months that point to companies using trade channels to pay for goods far in excess of their value or even that don't exist at all.
While China is enforcing strict rules on moving capital offshore after an estimated $1 trillion left last year, those seeking to evade limits can disguise money flows as payment for goods exported or imported to foreign countries or territories, especially Hong Kong.
Over-Invoicing
"These fake imports are quite apparent," said Kevin Lai, chief economist for Asia excluding Japan at Daiwa Capital Markets in Hong Kong, citing the size of the increase in April.
Over-invoicing for goods gives a company or individual the opportunity to skirt capital controls and shift money offshore. Authorities have responded to evidence of the activity by clamping down on the myriad of illicit channels used, from curbing purchases of overseas insurance products to stopping friends and family members from pooling their $50,000-a-year quotas to get large sums of money out.
Even though overall capital outflows have eased sharply in recent months, a fresh flare-up remains a threat. One trigger could be a strengthening in the dollar as the Federal Reserve prepares to increase interest rates, said Tommy Xie, a Singapore-based economist at Oversea-Chinese Banking Corp.
Net Outflows
"China still remains vulnerable to a renewed intensification of capital outflows," analysts at the Institute of International Finance said in a release. "Stress could rise again particularly if the dollar starts to strengthen and market comes to believe the Fed will tighten more quickly than currently priced, especially if the current growth spurt starts to peter out."
The institute estimates that net outflows from China may have totaled around $25 billion in April, unchanged from March.
Concern that the Chinese currency will weaken is fueling the push to get cash out. The yuan fell the most in almost a week on Monday as the dollar headed for its biggest five-day gain since November. The yuan dropped 0.2 percent to 6.5044 a dollar as of 1:47 p.m. in Shanghai, according to China Foreign Exchange Trade System prices. The offshore yuan traded in Hong Kong was little changed at 6.5184.
Valuation Effect
A surprise $7 billion increase in China's foreign-exchange reserves in April was partly due to moves in currencies that are part of the stockpile, according to a note from Goldman Sachs Group Inc. economists. Adjusted for estimated valuation effects, the reserves would have decreased by $6 billion, they said. The onshore yuan will decline a further 2.2 percent by the end of this year, based on the median estimate in a Bloomberg survey.
"Outflows from China have eased but they haven't reversed and remain a real problem," said OCBC's Xie. "Our core scenario is that the Fed will raise interest rates and the dollar will strengthen, so the yuan will weaken against the greenback. But the bottom line is that disorderly capital outflows have paused."
The People's Bank of China raised its daily reference rate by 0.15 percent to 6.5105 a dollar on Monday, while a Bloomberg replica of a 13-currency index tracked by the monetary authority climbed 0.27 percent to 96.89.
— With assistance by Tian Chen, and Enda Curran
Before it's here, it's on the Bloomberg Terminal.
LEARN MORE