Amid the Calm, Bearish Stock Options Bets Pile Up: Chart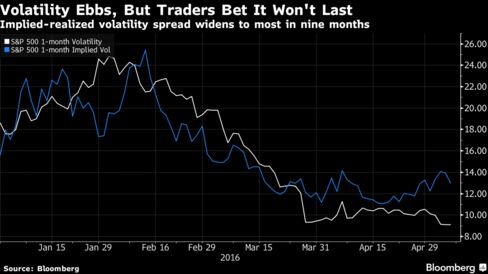 Price swings have been relatively muted the past two months, but options traders are betting it won't last. The gap between the one-month historical volatility, a measure of actual price swings, and what traders are willing to pay for protection is at its widest since August. There have only been six days the S&P 500 swung more than 1 percent since the start of March, the longest comparable stretch of peace since May 2015. That's lured automated funds that trade based on volatility trends to buy more U.S. stocks, increasing their ability to wreak havoc should markets start to crack.
Before it's here, it's on the Bloomberg Terminal.
LEARN MORE