Euro Area to Debate Greece's 321 Billion-Euro Problem: Chart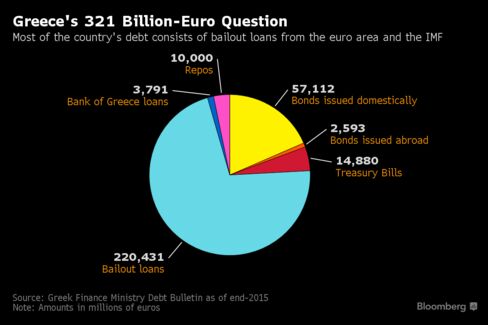 Euro-area finance ministers will debate possible debt-relief measures for Greece Monday, after International Monetary Fund Managing Director Christine Lagarde warned them that the fiscal targets envisaged in the country's latest bailout agreement are not realistic. The discussion is taking place after successive rounds of inconclusive talks between the government and its creditors about the economic overhauls attached to the first evaluation of the agreement signed last summer. With the current budget review already six months behind schedule, Prime Minister Alexis Tsipras is running out of time to qualify for a fresh aid disbursement before Greek bonds held by the European Central Bank come due in July.
Before it's here, it's on the Bloomberg Terminal.
LEARN MORE