Virginia Wine Sales Near $1 Billion With Help From Case and Trump
Two clusters of wineries around Monticello, Middleburg

Italy's Zonin acquired Barboursville Vineyard in 1976
Virginia has become one of the top five viticultural states in the U.S. through its growing number of wine-making operations, generating annual sales of close to $1 billion from around 275 wineries clustered around Monticello and Middleburg, according to state officials visiting London on a trade mission.
Tourism is rising, with 1.6 million visitors to wineries in the state last year, and 2016 marks the 40th anniversary of the Italian winemaker Casa Vinicola Zonin SpA's investment in Virginia's Barboursville Vineyard, which it acquired in 1976, the bicentennial of the revolution.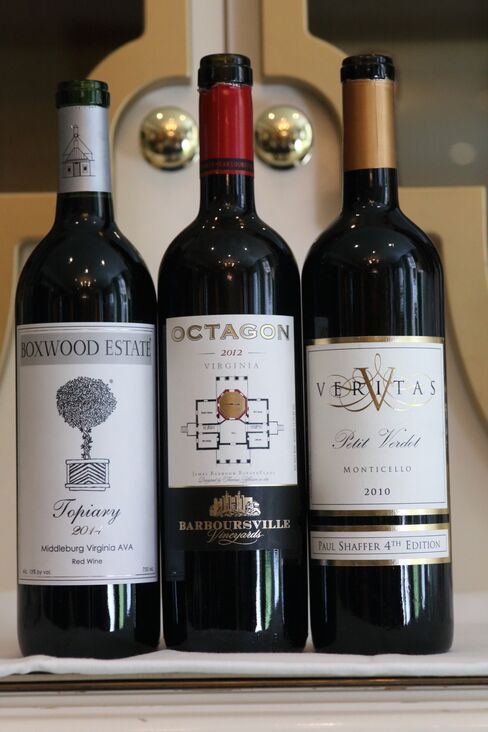 Virginia ranks behind California, Washington, Oregon and New York in terms of its overall number of wineries, according to data on the website of WineAmerica, the National Association of American Wineries. Thomas Jefferson, who drafted the Declaration of Independence and became third president, tried and failed to produce wine in the state in the 1770s from his home in Monticello. Much of the industry has developed in the past four decades.
"We've just now won fifth place in the country" for wine production, Virginia Governor Terry McAuliffe said during a wine tasting on a trade mission to London April 28, while Virginia Secretary of Agriculture and Forestry Todd Haymore said that even after record production last year, "we are encouraging more planting," including through a tax-credit program.
"We run the risk of not having enough vineyard production," Haymore said, noting that most of the state's wineries are small family owned operations, even if it does have some high-profile vineyards.
Singer and guitarist Dave Matthews of the Dave Matthews Band owns Blenheim Vineyards near Charlottesville, while AOL Inc. co-founder Steve Case and his wife Jean own Early Mountain Vineyards in Madison and Donald Trump, the presumptive Republican nominee for president, has the Trump Winery near Monticello.
Luca Paschina, winemaker at Zonin's Barboursville estate, said the Italian company's arrival in 1976 was "very pioneering." He said at the tasting that Jefferson had been convinced good wine could be made in Virginia, and "Mr. Zonin felt the same way."
Rachel Martin of Boxwood Estate Winery in Middleburg said at the tasting that the estate had been instrumental in the development of the region as a designated American Viticultural Area, initiating the six-year petition process which led to its establishment.
George Hodson of Veritas Wines in Nelson County, near Charlottesville, said that winegrowers in the region "are not married to a particular style or varietal" and the estate's wines include Merlot, Petit Verdot, Petit Manseng, Sauvignon Blanc, Chardonnay and Viognier.
"Our weather's much more like Burgundy than Napa Valley," he said, noting that "the majority of our wine we sell at the cellar door."
Before it's here, it's on the Bloomberg Terminal.
LEARN MORE