Malaysia Ruling Coalition Wins Sarawak Poll in Boost for Najib
Biggest state has been held by ruling coalition since 1963

State relied upon by Najib's coalition to win federal ballots
Malaysia's ruling coalition was returned to power in Sarawak state with a bigger majority, suggesting that nearly a year of turmoil for Prime Minister Najib Razak over funding scandals have had little impact on voters more concerned with issues like the economy.
Barisan Nasional secured 72 of 82 seats in the state assembly, according to the Election Commission. Opposition parties won 10 seats. Chief Minister Adenan Satem, in power since February 2014, was sworn in for his second term.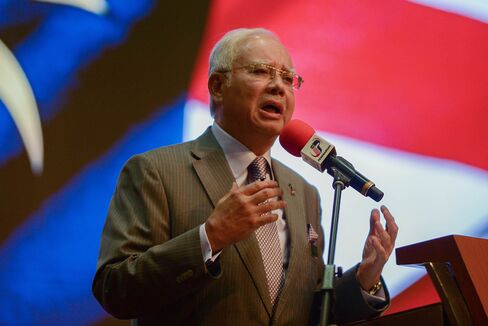 Najib has been a frequent presence in Malaysia's largest state in recent months, and has promised billions of development funds. He needed a strong showing for his coalition as he fends off a public campaign led by former leader Mahathir Mohamad to get him to quit. The prime minister's supporters are already claiming the Sarawak win as an endorsement of him, even as they pointed to the popularity of Adenan.
Najib "was personally down on the ground and was well received by many voters in the places he visited," Minister of Communications and Multimedia Salleh Said Keruak said on his blog. "In a way this proved the prime minister's critics wrong regarding his popularity."
BN -- which has governed the state since 1963 -- won 55 of 71 seats in the last assembly, and electoral officials added 11 seats in a boundary redraw last year that critics said would favor the government. The alliance had been expected by analysts to return to power.
Opposition Woes
"The victory we achieved shows voters' confidence in Adenan Satem's leadership as chief minister," Najib said in a joint briefing in Sarawak with Adenan after the outcome. "The win also represents voters' confidence in the strong partnership between the federal and state governments," he said. "This strong and enduring partnership will allow Barisan Nasional to fulfill our campaign promises."
Infighting in the opposition over individual seats being contested in the poll hurt its prospects in the state. The ethnic Chinese-dominated Democratic Action Party won seven seats, a weaker showing than 2011, while the People's Justice Party, or PKR, won three.
"It is clear that the lack of unity was a factor," said Xavier Jayakumar, vice president of PKR. "We must look to preparing for GE14 as a united coalition," he said, referring to the next national poll that is due by 2018.
Borneo States
Sarawak and neighboring Sabah contributed about a third of parliamentary seats won by BN in the 2013 general election. The BN-led coalition, which has ruled Malaysia since independence in 1957, retained power in 2013 with its slimmest margin -- and could have lost if not for the Borneo states.
The win for BN could reassure foreign investors that projects in Sarawak will go ahead. Najib touted development of Sarawak and Sabah in his budget speech in October, pledging to build a 1,796-kilometer highway linking the states at a cost of 28.9 billion ringgit ($7.2 billion).
Separated from peninsula Malaysia by the South China Sea, Sarawak was the country's third-largest state or territory contributor to gross domestic product in 2015, accounting for an estimated 10.6 percent of output. It contributed to half the country's crude oil output and is the sole provider of liquefied natural gas, according to S&P Global Ratings.
Almost 80 percent of the seats up for grabs were in rural areas. Large parts of the state are covered by mountain highlands and rainforests, with some settlements accessible only by helicopter or a long river trip. Outside Malaysia's biggest cities, voters' indifference to the scandals linked to Najib may help him.
Millions of dollars were deposited in Najib's personal accounts ahead of the 2013 federal election, and debt-ridden state fund 1Malaysia Development Bhd. -- whose advisory board the premier has chaired -- is the center of global probes into potential embezzlement. Najib and 1MDB have denied wrongdoing. The government said the funds in Najib's accounts were a donation from the Saudi royal family and most of it was later returned.
Before it's here, it's on the Bloomberg Terminal.
LEARN MORE