Colombia Inflation Rate Unexpectedly Drops From 15-Year High
Prices rose less than all 31 forecasts in a Bloomberg survey

Central bank has raised interest rates for 8 straight months
Colombia's inflation rate unexpectedly fell for the first time since May 2015, led by smaller increases in housing costs.
Consumer prices rose 7.93 percent from a year earlier, less than all 31 analysts in a Bloomberg survey had predicted, whose median forecast was for an increase of 8.12 percent. Inflation has exceed the upper limit of the central bank's target range for 15 months, and in March reached its highest level since 2001.
The central bank has raised its policy rate by 2.5 percentage points since September, as a severe drought caused food prices to spike while a fall in the peso lifted import costs. The central bank has repeatedly said that these effects are temporary, and that it is raising rates largely to keep inflation expectations under control.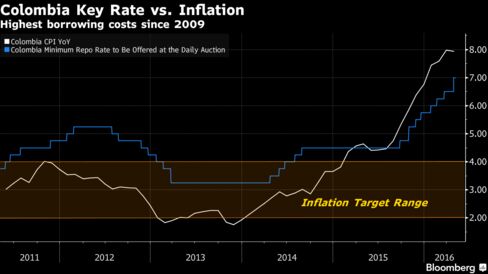 "The key question is how this will impact expectations, and I think it'll be good," said Camilo Perez, chief economist at Banco de Bogota, in a reply to e-mailed questions. "That would ease the pressure on the central bank a little."
In the central bank's April survey of economists, analysts raised their forecast for 2017 inflation to 3.99 percent, from 3.7 percent. Policy makers try to keep expectations "anchored" near the target, since these play a key role in price-setting decisions. Colombia targets inflation of 3 percent, plus or minus one percentage point.
Central Bank Reaction
The inflation was drop was "very slight" and "welcome, but insufficient", Central bank co-director Carlos Gustavo Cano said in a reply to e-mailed questions. Cano repeatedly called for bigger rate increases while the majority of the board was voting to increase the policy rate in quarter percentage point increments. In April, other board members came around to Cano's view, and a majority of the 7-member policy committee voted to raise the key rate to 7 percent, from 6.5 percent.
Inflation in housing costs, the biggest component of the consumer basket, which includes rent and utilities bills, fell to 5.9 percent, from 6.58 percent.
One measure of "core" inflation tracked by the central bank, which aims to track the underlying trends by excluding volatile food prices, fell to 6.02 percent, from 6.2 percent in March. Central bank co-director Cesar Vallejo said in a March 31 interview that the central bank would like to see improvements in inflation expectations, core inflation and cooler demand before stopping its series of interest rate increases.
Central bank Governor Jose Dario Uribe told reporters Tuesday that inflation will slow to about 6 percent by the end of the year, and to about 4 percent by the end of 2017. Uribe is scheduled to present the bank's quarterly inflation report Friday in Bogota.
Before it's here, it's on the Bloomberg Terminal.
LEARN MORE