Buffett Sees Cash Hoard Climbing Back Above $60 Billion: Chart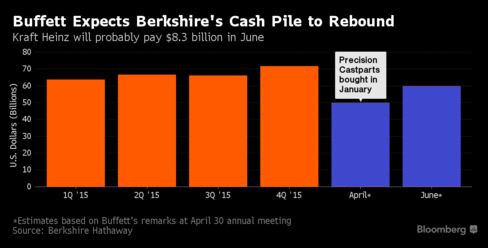 Berkshire Hathaway Inc.'s cash pile will probably be back above $60 billion by June, giving Chairman Warren Buffett a bigger war chest to make acquisitions and buy stocks. The figure fell to about "50-odd billion" after the completion of an acquisition in January, but will probably jump in June when Kraft Heinz Co. is allowed to redeem preferred shares held by Berkshire, he told shareholders April 30. His company is scheduled to report complete first-quarter results Friday.
Before it's here, it's on the Bloomberg Terminal.
LEARN MORE