Kentucky Derby Picks for the Value Investor
At 15-1, Outwork offers the best betting value in the race

Other horses to consider: Gun Runner, Mo Tom and Shagaf
The colt Outwork is an imposing physical specimen. Big and powerful, he sports a gleaming brown coat and a huge stride. His talent was on full display in a flashy, final workout for Saturday's Kentucky Derby -- front legs rising high before reaching out and rhythmically gobbling up ground as his rider, the Hall-of-Famer John Velazquez, sat chilly in the irons.
That one-minute drill last week sold me on the horse. There are certainly other contenders that are more experienced and have bigger resumes -- starting with the undefeated Nyquist -- but Outwork has the look of a prospect with a ton of upside. And at projected odds of 15-1, he will offer solid betting value. I'll play him to win and weave him into my exotic wagers with a handful of other horses in the 10-1 to 20-1 range: Gun Runner, Mo Tom and Shagaf.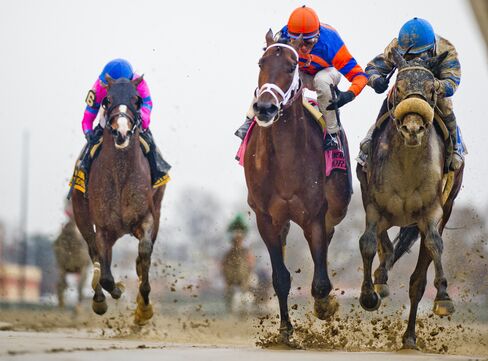 Here's a full breakdown of the field. Runners are listed by post position. Odds are Churchill Downs Racetrack's forecast of how gamblers will bet the race.
-No. 1 Trojan Nation (50-1) -- In racetrack parlance, a horse that has never won is a maiden. This colt, alas, is a maiden. And when night falls Saturday in Louisville, he will still be a maiden.
-No. 2 Suddenbreakingnews (20-1) -- Cool name. Okay horse. He benefited hugely from torrid early paces in prep races in Arkansas that knocked out the leaders and made his come-from-behind charges look better than they really were.
-No. 3 Creator (10-1) -- A horse that will lure in a lot of gamblers who believe he's peaking at the right time. He may be, but I have the same problem with him that I do with the previous horse: He jogged well behind the frantic front-runners at the beginning of those races and coasted by them late.
-No. 4 Mo Tom (20-1) -- I'm a fan. It's true that he has a terrible knack for getting stuck in traffic jams but he moves like a serious racehorse, gliding along without the need for encouragement from his jockey. If he can avoid trouble on Saturday (no small feat in a field of 20), expect him to come running at the leaders late.
-No. 5 Gun Runner (10-1) -- A lot to like about this colt. He possesses tactical speed, he travels very comfortably behind other horses and, like Mo Tom, he's won before at Churchill Downs (always a key for believers in the horses-for-courses axiom). I'm unbothered by the low speed figures he's earned in his wins. Definitely bet-able.
-No. 6 My Man Sam (20-1) -- I could see this horse clunking up late to finish in the top half dozen or so; struggle to see him winning, though.
-No. 7 Oscar Nominated (50-1) -- This one's got no shot. Heck, I don't even know that he'll beat the maiden.
-No. 8 Lani (30-1) -- Dangerous. Not as in "dangerous, could win the race" but as in "dangerous, could wind up causing chaos during the race." By all accounts, the horse has behaved erratically during his morning gallops since arriving from overseas. Let's hope he enters the starting gate like a gentleman and then proceeds to jog around the track safely out of harm's way.
-No. 9 Destin (15-1) -- He's flashed signs of talent, but he's a pretty quirky individual. And I don't like that he hasn't raced in eight weeks.
-No. 10 Whitmore (20-1) -- Pretty much the exact same report card as the No. 2 and No. 3 horses. Makes me wonder how good he really is.
-No. 11 Exaggerator (8-1) -- Long and lean and a major contender. But once again, the dynamics of pace come into play. When he cruised to a facile victory in the Santa Anita Derby a month ago, he got the same set-up as the Arkansas crew, traveling leisurely along as a brutal speed duel unfolded some 15 lengths ahead of him. There's something of an optical-illusion effect here that many gamblers will fail to understand.
-No. 12 Tom's Ready (30-1) -- Doesn't interest me.
-No. 13 Nyquist (3-1) -- This horse is the goods. He's a perfect seven-for-seven and was voted two-year-old champion last year after winning the Breeders' Cup Juvenile despite getting stuck hopelessly wide on both turns. There are some potential chinks in his armor, including the fact that he arrived in Kentucky a few weeks back in less than perfect health. It just comes down to price: Is 3-1 adequate compensation? Not for me.
-No. 14 Mohaymen (10-1) -- He was the clear-cut Derby favorite until Nyquist traveled across the country a month ago and trounced him on his home track in Florida. Maybe the rain and mud did him in that day. Or maybe he's stopped progressing. The railbirds at Churchill have been fretting about how thin he looks right now and about how jittery he's been in his morning gallops. Discouraging signs.
-No. 15 Outwork (15-1) -- Love this outside post for him. It will help him avoid trouble and pick out a comfortable spot close to the early leaders. He ultimately may not be ready to win a race as demanding as the Kentucky Derby but these kinds of odds compensate me for that risk. I'm betting him.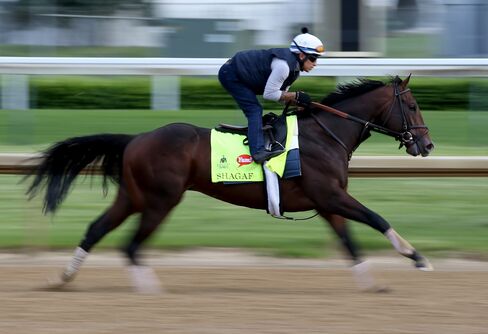 -No. 16 Shagaf (20-1) -- I'll give him a mulligan for his flop in the Wood Memorial. He seemed out of sorts in the mud. There's talent here. His rider, Joel Rosario, just needs to keep him out of traffic. He's too big a horse to try to start and stop and start and stop. Once he gets rolling, don't tap on the brakes. Not an easy task in a 20-horse field, but not impossible either. Intriguing longshot.
-No. 17 Mor Spirit (12-1) -- A consistent enough horse but he doesn't really wow me. And I struggle to see how he'll offer any betting value given the high-profile team he has in his corner: trainer Bob Baffert (he of American Pharoah fame) and jockey Gary Stevens.
-No. 18 Majesto (30-1) -- This horse can actually run a bit. I'm not sure 30-1 would interest me -- he's only won one race, after all -- but if he drifts above 40-1, maybe.
-No. 19 Brody's Cause (12-1) -- I'm unimpressed for the most part and totally uninterested at this kind of price.
-No. 20 Danzing Candy (15-1) -- A California speedball that figures to storm right out to the lead when the gates open. He's a touch too keen and high strung for me, though. It's hard to win a 1 1/4-mile race (a distance none of these horses has tried before) with that kind of disposition.
(David Papadopoulos, a managing editor at Bloomberg News, has been following thoroughbred racing for more than two decades and is a voter in the industry's annual Eclipse Awards.)
Before it's here, it's on the Bloomberg Terminal.
LEARN MORE