G-7 Should Weigh In on Asian Sea Disputes With China, Abe Says
Group of Seven leaders should use their summit in Japan this month to call out China for its increasing assertiveness in territorial disputes in Asian waters, Japanese Prime Minister Shinzo Abe said.
The G-7 meeting "must be the place where we come up with the clear message" on resolving the South China Sea dispute, Abe told a press conference in London Thursday following talks with U.K. Prime Minister David Cameron. "We must not resort to intimidation trying to alter the status quo. A rule-based, law-based, peaceful resolution of the conflict must be the case."
Any G-7 criticism of its maritime policy is bound to inflame China, which has already warned the group to stay out of territorial disputes in the region and focus on righting the global economy. Tensions have been rising in Asian waters, with the U.S. sending warships to challenge China's claims to more than 80 percent of the South China Sea, and Japanese and Chinese ships regularly tailing one another around a series of uninhabited islands in the East China Sea claimed by both countries.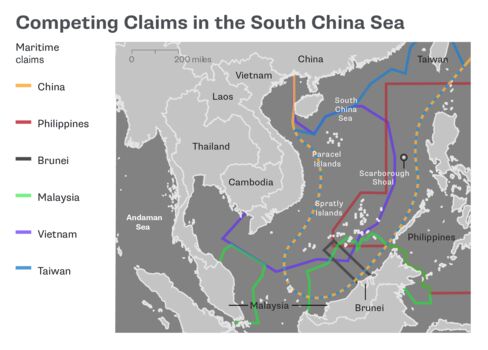 China accused the G-7 of "hyping up maritime issues and fueling tensions in the region" after foreign ministers from the group released a statement following a meeting in April calling on "all states" to act in accordance with international law and respect freedoms of navigation and overflight. China has reclaimed more than 3,000 acres of land in the South China Sea, building up artificial islands to provide ports and runways for its ships and planes. In the East China Sea, it laid claim to the airspace around the disputed islands.
China-Japan relations have suffered because of the territorial spat and lingering animosity over Japan's wartime past.
A "lack of mutual trust" between the two countries remains and Japan needed to "cast aside the confrontation mentality and work with China to maintain peace, stability and prosperity of the region," China's Foreign Minister Wang Yi said after meeting his Japanese counterpart Fumio Kishida in Beijing on April 30. It was the first visit by a Japanese foreign minister to China in more than four years.
Before it's here, it's on the Bloomberg Terminal.
LEARN MORE