VIX Can Be Deceiving as Steep Curve Shows Uncertainty: Chart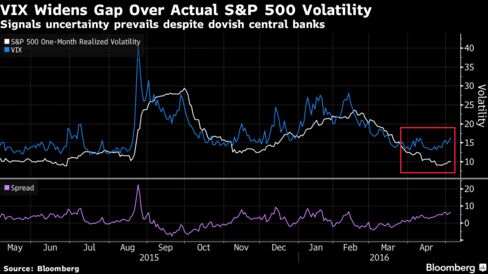 Amid weak global growth and concerns about the effectiveness of central-bank policies, traders are increasing their expectations that stock volatility will rise. The difference between the Chicago Board Options Exchange Volatility Index, which tracks bets for future stock swings, and past S&P 500 Index volatility, is at about double its average for the last 10 years. In an era of high hedge-fund redemptions, central bank-induced price distortions, algorithmic trading and regulatory risks, the market is susceptible to large flash crash-type selloffs where so-called convexity comes into focus. Convex relationship exists where volatility accelerates as equities decline.
Before it's here, it's on the Bloomberg Terminal.
LEARN MORE