U.K. Voters Choose London Mayor, Give Verdict on Corbyn's Labour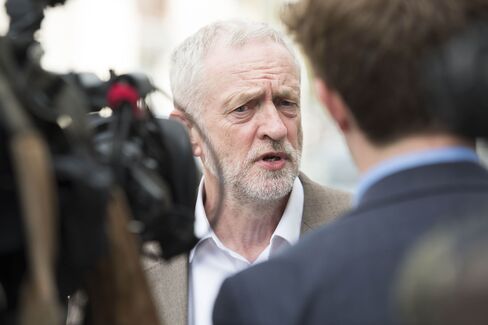 Labour braced for grim results in local-council elections

Votes take place in shadow of June 23 Brexit referendum
Counting began after a series of local and legislative elections across the U.K. that will deliver a new mayor for London, continued nationalist government in Scotland and the voters' first verdict on Jeremy Corbyn's leadership of the opposition Labour Party.
The results will be pored over for any hints about voter sentiment going into the referendum on European Union membership in seven weeks, but it's the fate of Labour that's likely to make the most immediate waves. Elections to local councils are generally used by voters to punish the national government, which is why for three decades, the main opposition party has always gained seats outside general election years. You have to go back to 1985, close to Labour's post-World War II low, to find the last time the party went backward while in opposition.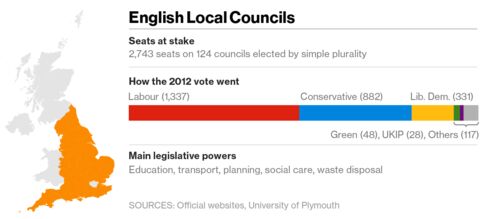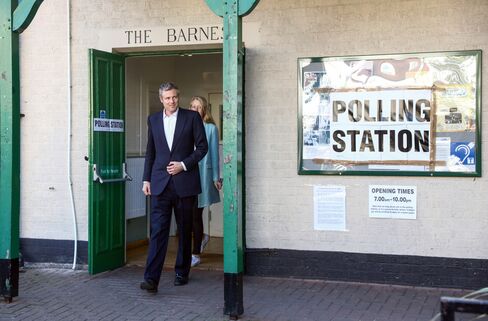 Until now. This year, Labour is expecting to lose seats. After Corbyn told reporters on Tuesday that he was aiming for a net gain, his office was forced to issue a clarification the next day, explaining he had misspoken. Labour argues that the council seats up for election this year were last contested in 2012, when it was riding high in the polls under Ed Miliband. Rob Ford, professor of politics at Manchester University, says this argument has merit, but won't explain away a bad performance.
"A strongly performing opposition has traditionally posted big leads over the governing party in these kinds of elections," Ford said in an interview. "Look at Labour and the Conservatives relative to each other. It doesn't look like Labour are going to do very well by that yardstick."
Also hampering Labour will be the rise of the anti-EU U.K. Independence Party. Although it won only one seat in Parliament at last year's general election, it won 13 percent of the vote. With the Brexit referendum on June 23, voter awareness of the party should be at a high. Of the more than 2,700 seats up for election, Colin Rallings and Michael Thrasher, professors of politics at Plymouth University, forecast UKIP will gain 40. They predict Labour will lose 150.
A good showing for UKIP may spark renewed market concerns over the possibility of Brexit, according to analysts at Nomura and Jefferies. A gauge of services fell to its lowest level in more than three years in April, following bigger-than-expected declines in manufacturing and construction surveys released earlier this week.
It's not just in local councils that Labour is expecting a bad night. In Scotland, where for decades the party was all-powerful, polls predict more grim news for Corbyn. The Scottish National Party, which last year rode the tide of post-independence referendum excitement to win half of all the general-election votes and 56 out of 59 House of Commons seats, is expected to repeat that performance in voting for the Scottish Parliament. That will keep the question of a second independence vote simmering, particularly if the U.K. as a whole opts for Brexit in June. The big doubt in the race is whether Labour will come second or third, behind the Tories.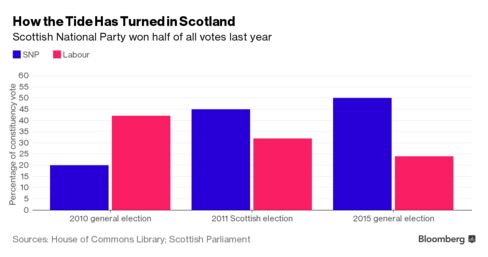 In the Welsh Assembly, Labour is at least on course to keep control even though it's losing popular support. It currently has half the chamber's 60 seats, so any retreat will force it to operate as a minority government or in coalition, most likely with the nationalists, Plaid Cymru. UKIP is projected to win assembly seats for the first time.
To avert a vote for Brexit next month, it's critical for Prime Minister David Cameron to mobilize Labour voters to support his campaign to keep the U.K. in the bloc, according to Mujtaba Rahman of Eurasia Group in London.
Labour losses on Thursday would likely "sap momentum and, at the margin, reduce Labour's effectiveness as a pro-EU force," providing an "unwelcome problem" for Cameron given the ambivalence of his own Conservative Party on Europe, Rahman said.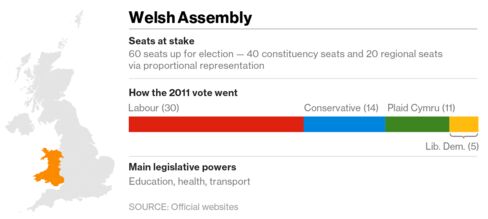 The one bright spot in the misery for Labour is likely to come late on Friday, with the London mayoral result. The capital city was where Labour put on its best performance in 2015, taking 45 of London's 73 districts. Polls have consistently put Labour's candidate, Sadiq Khan, on course to win.
But even here, the news is mixed for Corbyn. Khan has run a business-friendly campaign and has sought to keep a distance between himself and his party leader, who's pursuing a traditional socialist agenda. Tory candidate Zac Goldsmith has sought to link the two men and has also suggested Khan is soft on extremism. If Khan does win, he'll be the most senior Muslim politician in British history.
While a poor performance for Labour would be added to the list of reasons that the party's members of Parliament have to question Corbyn's leadership, it's unlikely to prompt a move against him. In the first place, the party's focus will shift to the EU referendum. In the second, the leader is still very popular with grassroots party members.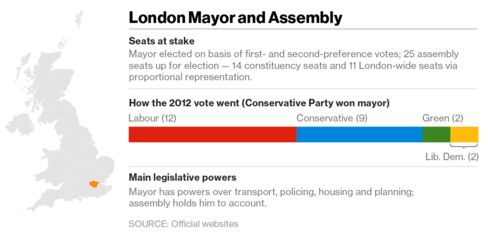 "The existential question for Labour is, is there anything that could convince a sufficient number of Corbyn's supporters in the party that he isn't a good thing?" said Ford. "They don't seem to be convinced by electoral arguments."
Before it's here, it's on the Bloomberg Terminal.
LEARN MORE