Thai Hotels, Restaurants Ramp Up Hiring on China Tourism: Chart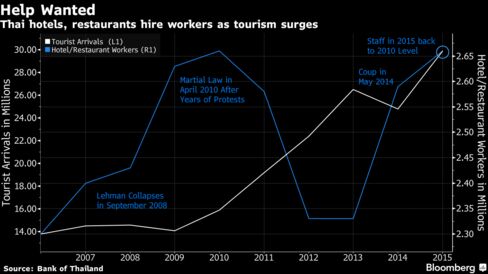 Thailand's record tourism has prompted the government to mull fast-tracking expansion of Bangkok's main airport and forced leisure establishments to add workers after years of doing more with less. Staff at hotels and restaurants totaled 2.66 million at the end of last year, returning to the same level as in 2010, as foreign visitors surged 21 percent to a record 30 million. With the flood of tourists, led by Chinese, many hotels can no longer refrain from hiring, a strategy used since the global financial crisis and amid years of political turmoil that lead to a military coup in 2014.
Before it's here, it's on the Bloomberg Terminal.
LEARN MORE