Six years after the sovereign-debt crisis started, Europe's still in a bind. Growth, spending, investment — and hence inflation — are all sub par. The reason is still the same: debt, and too much of it.

But what if, even in the current political climate where few governments dare suggest any great leaps in European integration, a deal could be done to make part of that debt go away?

A handful of some of the region's leading economic thinkers, including Lucrezia Reichlin and Helene Rey at the London Business School, Giancarlo Corsetti at Cambridge University and Lars Feld at the Walter Eucken Institute, have come up with a proposal to do just that.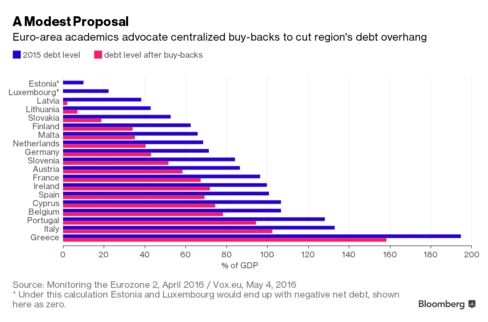 Here's the deal: On the long road toward a brand-new sovereign-debt restructuring mechanism for the 19-nation currency bloc, states agree to spend just 0.5% of annual gross domestic product to fill a "stability fund."

This fund buys back the debt of euro nations and retires it, so that the national debt-to-GDP ratios fall below 90 percent. Over 50 years, the fund can mobilize as much as 3 trillion euros ($3.5 trillion), according to the authors.

But wait, you might say. Isn't this just the kind of debt mutualization idea that's bound to fall at the first — German — political hurdle? No, say the authors, because there's a catch.

The answer is a "coordinated one-off solution to deal with the legacy debt in exchange for a permanent change in institutions," the economists write.

And therein lies the rub. In order for this system to work, the euro area would need a permanent debt restructuring mechanism that sets hard limits for the region's bail-out fund, the ESM.

As well as that, a replacement class of safe collateralized debt obligations (yes, you'll remember them from financial-crisis history class) based on European sovereign debt would need to be created, in order to break the link between the banks and their home government debt. If that sounds complicated, it is. Click here to read more details.
Political Wrangling
Given the current wrangling over the refugee crisis, the institutional fall-out over Greece's rescue package and the looming possibility of Brexit, even these measures might look politically unattainable in the near future. In fact, the proposals are just the lesser of two evils, the authors argue.

"We propose a limited set of measures which can be implemented now without requiring a deepening in political or economic integration for which there is little appetite today," the economists say. "Our approach is motivated by a sense of urgency and by our assessment that major changes toward rapid integration would require a long time, and perhaps too long to make the euro zone secure now."
Before it's here, it's on the Bloomberg Terminal.
LEARN MORE