EU Nears Visa-Free Offer for Turkey as Migrant Flows Curbed
Refugee package would also prolong internal EU border checks

New European system proposed for relocating asylum seekers
The European Commission made good on a pledge to the Turkish government by paving the way for Turks to have visa-free travel to Europe in return for stemming the influx of refugees.
The visa recommendation is part of a package of measures that also would let European Union nations prolong internal EU border controls for six months as a guard against any renewed migrant surge from Turkey into Greece and would revamp the bloc's system for handling asylum requests. The proposals must be approved by EU governments, which have signaled a readiness to act on the visa measure by mid-year.
The promise of hassle-free travel to Europe was a Turkish condition for signing up to a March 18 accord with the EU on tackling the continent's biggest refugee wave since World War II. Along with the reintroduction of internal European border checks that shut a migratory route north from Greece, the agreement with Ankara has caused a slump in refugee arrivals from Turkey and eased domestic political pressure on leaders including German Chancellor Angela Merkel.
"Turkey indicated it would be able to accelerate all the reforms necessary" for EU visa-free status, Frans Timmermans, the commission's principal vice president, told reporters on Wednesday in Brussels. "Over the last weeks, Turkey has made impressive progress."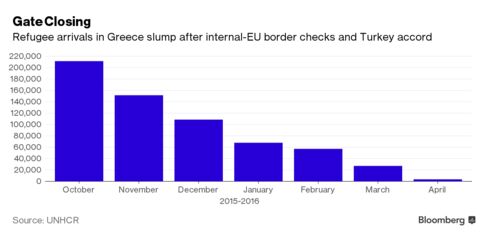 The package by the commission, the EU's executive arm, is a political balancing act meant to restore policy cooperation among national capitals that resorted to blaming each other as they faced a volatile mix of growing refugee arrivals, high-profile terrorist attacks and surging populist parties over the past year.
The imminent prospect of visa-free travel for Turks helps keep Ankara focused on its central role in preventing migrant sea crossings from the Turkish coast to nearby Greek islands, a route used since early 2015 by about 1 million people from war-torn nations such as Syria, Iraq and Afghanistan. Arrivals in Greece fell to 2,987 last month from 26,971 in March and 57,066 in February, according to the United Nations refugee agency.
The option of a six-month extension of internal European border checks allows Austria and Germany to keep measures in place that would otherwise lapse this month (and enables Denmark, Sweden and Norway to extend checks due to expire in mid-summer or early autumn.) At the same time, it also sets a goal of lifting all such controls by year-end -- a step that would soothe worries in Greece that it'll become a longer-term way station for stranded refugees and that would fully restore Europe's passport-free travel zone known as Schengen.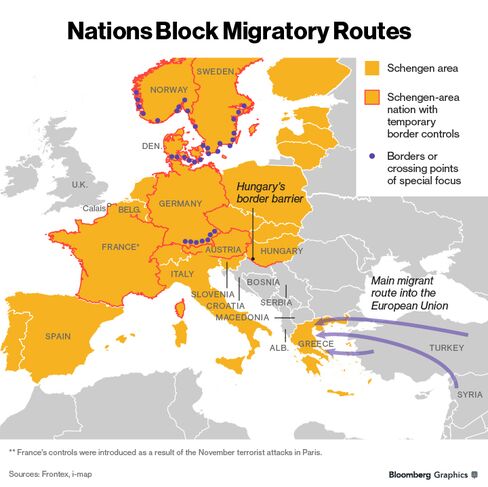 "Our proposal should be seen as an exceptional, temporary measure to ultimately allow for the safeguarding and return to a normal-functioning Schengen area as soon as possible," EU Home Affairs Commissioner Dimitris Avramopoulos told reporters.
The asylum revamp would establish a system for relocating refugees across the EU when a gateway country is overwhelmed by arrivals. The proposal resembles an ad-hoc program set up last year to find homes across Europe for a total of 160,000 migrants who entered Greece and Italy.
The 2015 initiative has faltered as EU nations such as Hungary balk at accepting their share. In a sign of the political sensitivity of the matter, the proposal would let governments pay a "solidarity contribution" of 250,000 euros ($287,025) for each asylum seeker instead of accepting their assigned allotment.
Negotiations over this draft law are likely to go on for a year or longer, with a final EU accord also needing the support of the European Parliament.
The visa-free travel proposal is on a faster political track because of the insistence of Turkish President Recep Tayyip Erdogan, whose controversial crackdown on domestic dissenters hasn't prevented his leverage over the EU from growing as a result of the 28-nation bloc's disarray over migrants.
72 Benchmarks
In the March deal, which also showered Turkey with 6 billion euros in refugee aid and vowed to "re-energize" the stalled Turkish bid for EU membership, the bloc's leaders pledged to remove visa requirements for Turks by the end of June at the latest provided Ankara fulfilled all the conditions. These range from passport security features to migration management.
The commission said on Wednesday that Turkey has made enough progress in meeting a total of 72 "benchmarks" to justify the proposal on EU visa-free status, identifying just five conditions left to fulfill by mid-year. These relate to the fight against corruption, judicial cooperation with EU nations, deeper ties with European law-enforcement agency Europol, data protection and terrorism legislation.
The proposal would allow visa-free travel for Turks who possess a biometric passport with fingerprint data embedded in the chip, according to the commission, which said Turkey plans to start producing such documents in June at a maximum of 10,000 a day. The offer would apply to all EU nations except the U.K. and Ireland as well as to Schengen associated countries Switzerland, Norway, Iceland and Liechtenstein.
The proposal, which will need the backing of a weighted majority of EU governments and the bloc's Parliament, would also make it easier for member nations to trigger a suspension mechanism under the European visa-liberalization regime. Such a mechanism allows for the temporary re-imposition of visa requirements on visitors from a particular non-EU country when they overstay or make unfounded asylum applications.
"Visa liberalization does not mean uncontrolled entry into the European Union," Avramopoulos said.
Before it's here, it's on the Bloomberg Terminal.
LEARN MORE