Druckenmiller Loads Up on Gold, Saying Bull Market Exhausted
Billionaire says gold is his largest currency allocation

Druckenmiller's portfolio is up 8 percent so far this year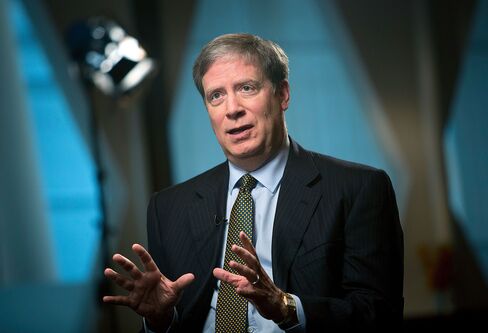 Stan Druckenmiller, the billionaire investor with one of the best long-term track records in money management, said the bull market in stocks has "exhausted itself" and that gold is his largest currency allocation.
Druckenmiller, speaking at the Sohn Investment Conference in New York on Wednesday, said while he's been critical of Federal Reserve policy for the last three years he expected at that time it would lead to higher asset prices.
"I now feel the weight of the evidence has shifted the other way; higher valuations, three more years of unproductive corporate behavior, limits to further easing and excessive borrowing from the future suggest that the bull market is exhausting itself," said Druckenmiller, who averaged annual returns of 30 percent from 1986 through 2010 at his Duquesne Capital Management. He's up 8 percent this year, according to a person familiar with the matter.
QuickTake Gold's Ups and Downs
As bankers experiment with "the absurd notion of negative interest rates," Druckenmiller said, he's wagering on gold. "Some regard it as a metal, we regard it as a currency and it remains our largest currency allocation," he said, without naming the metal.
Metal Gains
Gold futures climbed 20 percent this year in the best start since 2006, helped by speculation that the U.S. Federal Reserve will be slow to tighten monetary policy amid global risks to growth and as lending rates in the euro area and Japan fell below zero.
On the Fed, Druckenmiller said the central bank has borrowed more "from future consumption than ever before."
"By most objective measures, we are deep into the longest period ever of excessively easy monetary policies," he said. "Despite finally ending QE, the Fed's radical dovishness continues today. By most objective measures, we are deep into the longest period ever of excessively easy monetary policies. In other words, and quite ironically, this is the least 'data dependent' Fed we have had in history."
Druckenmiller said "volatility in global equity markets over the past year, which often precedes a major trend change, suggests that their risk/reward is negative without substantially lower prices and/or structural reform. Don't hold your breath for the latter."
Before it's here, it's on the Bloomberg Terminal.
LEARN MORE