1Malaysia Development Bhd., the state-owned investment company that defaulted on a $1.75 billion bond last week, is asking investors to hold off any request for early repayment on its Islamic debt, according to a person familiar with the matter.
1MDB has submitted a request to the trustee of 7.24 billion ringgit ($1.8 billion) of sukuk for a waiver on the "acceleration process" for the bonds, the person said, asking not to be identified because the information isn't public. The investment firm needs the support of at least 25 percent of bondholders for the waiver, the person said.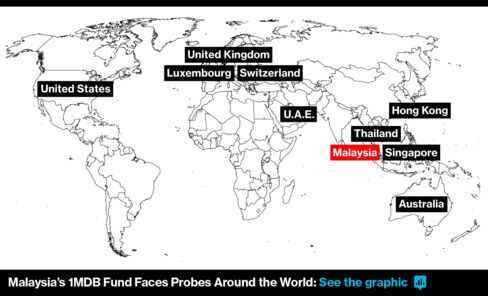 1MDB missed a $50 million interest payment last week amid a dispute with Abu Dhabi's sovereign wealth fund over who is required to make the payment. The move triggered a cross default on the 5 billion ringgit 5.75 percent local currency bond due in 2039 and 2.4 billion ringgit of notes maturing as early as 2021 that were issued by unit Bandar Malaysia Sdn.
The spokesman for 1MDB and Tan Kok Cheng, chief executive officer of AmTrustee Bhd., the trustee for the 1MDB's Islamic bonds, couldn't be reached for comment.
Before it's here, it's on the Bloomberg Terminal.
LEARN MORE