Prosecutors demand initial payment of $2.2 billion in 30 days

Suit has 200-plus claims of environmental, economic damages
Brazilian prosecutors filed a 155 billion reais ($44 billion) civil suit against Vale SA, BHP Billiton Ltd. and their iron-ore venture over a November dam rupture that killed as many as 19 people and caused severe environmental damage.
The prosecuting task force is demanding the two companies and Samarco Mineracao SA provide initial payment of 7.8 billion reais within 30 days, according to a statement from the prosecutor's office. The civil suit, which challenges a previous agreement the companies signed with federal and state governments, probably will result in a much lower settlement, according to Bank of America Corp. analysts.
Samarco had been making progress at overcoming what authorities describe as Brazil's biggest environmental disaster before the lawsuit was filed. In March, Samarco, Rio de Janeiro-based Vale and Melbourne-based BHP struck a deal with the Brazilian governments, committing to pay as much as 12 billion reais over 15 years. President Dilma Rousseff officially presided over the event, praising the companies and the administration for reacting quickly to address the damage caused.
Deepwater Precedent
The prosecutors allege in Tuesday's statement that state and federal agencies failed to provide the oversight necessary to avoid such a disaster.
"This action is much more extensive" than the previous agreement with the governments, prosecutor Eduardo Aguiar said Tuesday in a telephone interview. "It includes not just the three companies but the federal government, both state governments and also various agencies."
Vale's $2.25 billion of bonds due 2022 slumped 3.9 cents in the past two days, to 87.4 cents on the dollar, while BHP notes due 2023 declined 0.9 cents to 105.4 cents. Samarco dollar-denominated bonds tumbled about 10 cents on the dollar in the same period.
Civil Suit
The amount sought in the prosecutors' civil suit was based on costs to repair the damage caused by the 2010 Deepwater Horizon oil-spill disaster in the Gulf of Mexico, according to the statement. The Brazilian suit includes more than 10,000 pages of technical reports and more than 200 claims related to ecological, economic and social damages.
Prosecutors said the total value of the damages is an estimate and will be assessed by an independent technical team. In Brazil, prosecutors have a history of demanding large reparations for environmental disasters that are then reduced. Chevron Corp. was one party targeted by multibillion-dollar suits for 2011-2012 offshore oil spills, and eventually settled for a fraction of that amount.
BHP and Vale have said they would like the Samarco iron-ore operations to safely resume as soon as is technically feasible. Tuesday's announcement comes after Samarco set a goal to partially restart later this year. The joint venture's chief executive officer, Roberto Carvalho, has said he expects the mine to reopen in the fourth quarter.
Operations have been suspended since the dam burst caused a wave of mud to bury the district of Bento Rodrigues and clog the Rio Doce river in Minas Gerais state before the sludge traveled to neighboring Espirito Santo state.
Samarco's $1 billion in notes due 2022 fell to 49.6 cents on the dollar at 8.24 a.m. in New York from 59.7 on Monday. The notes had rallied from a low of about 31 cents after the spill.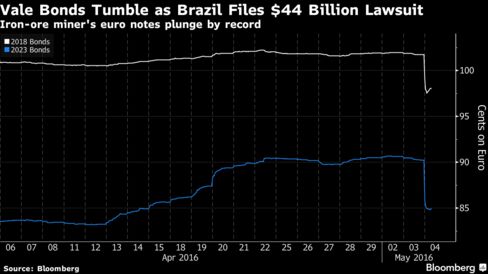 Samarco said by phone it would be looking at the case. Vale and BHP declined to comment when contacted on Tuesday by Bloomberg. BHP said in a filing on Wednesday it hasn't received formal notice of the claim.
"BHP Billiton remains committed to helping Samarco to rebuild the community and restore the environment affected by the failure of the dam," the company said in the filing.
Last week, a Minas Gerais state environmental prosecutor filed a petition to block restarting Samarco until the mine can prove that the failed tailings dam is no longer polluting waterways. Samarco said leakage is contained and that their position is substantiated by studies conducted by Brazil's environmental agency, Ibama.
Before it's here, it's on the Bloomberg Terminal.
LEARN MORE