Measure limits pay at state-controlled firms in Switzerland

If vote passes on June 5, Swisscom CEO could face 74% pay cut
Swisscom AG Chief Executive Officer Urs Schaeppi warned that an initiative on state-controlled companies would hurt the competitive position of Switzerland's biggest phone company.
QuickTake Switzerland's People Power
Swiss voters will decide on June 5 whether to accept the Pro Service Public measure, with the latest poll indicating that it may pass. The initiative would curtail executive pay, ban cross-subsidization between companies that are under state influence and stop firms such as Swisscom and rail-road operator SBB from aiming to show a profit. Switzerland holds a 51 percent stake in Swisscom.
"Swisscom is opposed to the initiative as it would diminish the quality of the services offered," Schaeppi told reporters on the company's first-quarter earnings call on Tuesday.
The Swisscom CEO earned a total of 1.8 million francs ($1.9 million) in 2015. With the initiative restricting pay to the equivalent of that of a Swiss minister -- 475,000 francs per year -- he'd be in for a 74 percent cut. While the text of the initiative speaks of compensation of the highest-paid state administrator, Pro Service Public's website identifies minister pay as the relevant benchmark.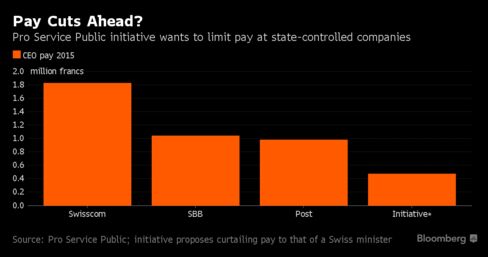 "Adjusting salaries would heavily handicap Swisscom in the labor market," Swisscom spokesman Sepp Huber said in an e-mailed statement. "Banning cross-subsidization and demanding not to show a profit would weaken the position of Swisscom." The measure also jeopardizes infrastructure and pricing, he said.
Popular initiatives are commonplace in Swiss politics, on issues ranging from health care to European Union membership. At least 100,000 signatures are needed for an initiative to come up for a national ballot. Voters repeatedly have taken a pro-business view in referendums about taxes and in 2012 also rejected a proposal for six weeks of statutory vacation.
Still, Swiss voters passed some of the toughest rules on executive pay in 2013, when they approved the so-called fat-cat initiative. While a first poll on Pro Service Public shows it has public backing, the opinion forming process is at an early stage, which means the vote could go either way, according to gfs.bern, which carried out the survey for public broadcaster SRG.
Schaeppi agrees, saying the result is still "too early to call."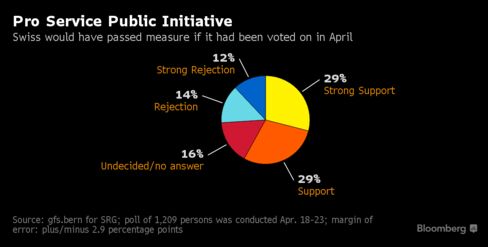 Swisscom competes with Sunrise Communications Group AG and billionaire Xavier Niel's Salt in Switzerland. The country's telecommunications market opened to competition in 1998, the same year Swisscom sold shares to the public. The state retained a majority stake.
"Liberalization of the telecommunications market in Switzerland has increased the quality of the service provided at lower prices," Schaeppi said.
Before it's here, it's on the Bloomberg Terminal.
LEARN MORE