Biogen to Spin Off Hemophilia Business Into Separate Company
Separation of should be completed by late 2016, early 2017

Business may have been worth up to $5 billion in sale: analyst
Biogen Inc. will spin off its hemophilia drugs business into a new, publicly traded company, freeing it to focus on neurological conditions like multiple sclerosis and Alzheimer's disease.
The spinoff has been approved by the board and should be completed by the end of 2016 or by early 2017, the Cambridge, Massachusetts, company said in a statement Tuesday. Biogen shares rose less than 1 percent to $275.04 at 9:44 a.m. in New York.
The possibility of a Biogen breakup has been discussed for some time, and the hemophilia unit could have been worth about $4.2 billion to $4.9 billion in a sale, Bloomberg Intelligence analyst Asthika Goonewardene wrote last month. The new company will be anchored by the drugs Eloctate and Alprolix, Biogen said, which last year brought in $320 million and $235 million in sales, respectively.
"It's a growing business, but with a really small base," Goonewardene said by phone on Tuesday. "If it's tucked inside Biogen you don't get enough zing for it."
Biogen Chief Financial Officer Paul Clancy said the new company will start off with cash and no debt.
"We do expect them to aggressively pursue business development," Clancy said on a call with analysts Tuesday. Before deciding to spin off the unit, he said that Biogen "certainly looked at all alternatives."
Neurology Focus
The move will put an even greater focus on Biogen's neurological franchise, where the multiple sclerosis drug Tecfidera made up 34 percent of total revenue in 2015. The company is also developing therapies for spinal muscular atrophy, Alzheimer's, Parkinson's disease, amyotrophic lateral sclerosis, and neuropathic pain. All are challenging areas of research where the risks -- and financial rewards -- are large.
"We will now carry out this mission through an even greater focus on therapies for patients with devastating neurodegenerative diseases for which there are few or no effective treatment options," said George Scangos, Biogen's chief executive officer.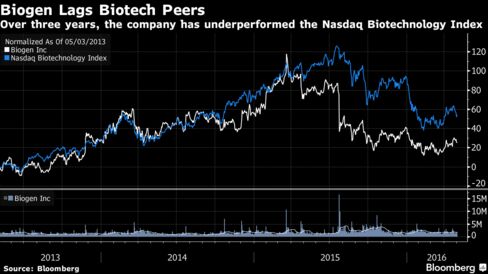 Spinning out individual units has been a popular move in the drug industry. In 2014, Baxter International Inc. announced the spinoff of Baxalta Inc., which has its own suite of therapies for blood disorders and is being bought by Shire Plc for about $32 billion. In 2013, Pfizer Inc. spun off its animal health unit to form Zoetis Inc., and Abbott Laboratories separated its brand name drug business to create AbbVie Inc.
The new company, which hasn't yet been given a name, will be based in the Boston area and run by John Cox, currently Biogen's executive vice president of pharmaceutical operations and technology. Existing Biogen holders will get stock in the new company, and the transaction is designed to be tax-free. Cox's departure continues a period of change at Biogen, which recently hired a head of sales and a head of research and development.
Biogen said it will provide transition assistance to the new company and will continue to manufacture Eloctate and Alprolix for the next three to five years.
Before it's here, it's on the Bloomberg Terminal.
LEARN MORE