Trump's Indiana Odds Rise to 94 Percent as Cruz Tumbles: Chart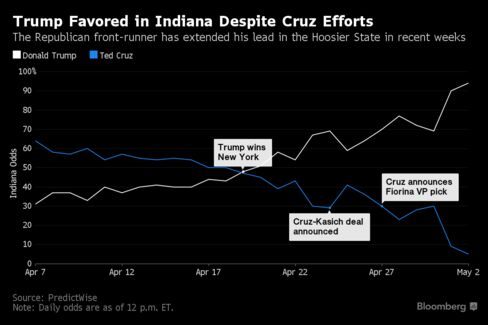 Republican front-runner Donald Trump's odds of winning the Hoosier State were up to 94 percent on Monday, according to website PredictWise, which aggregates betting-market data. Indiana is considered a must-win for Texas Senator Ted Cruz, who has attempted to shake up the race in recent weeks by forming a pact with Ohio Governor John Kasich, naming former Hewlett Packard Chief Executive Officer Carly Fiorina as his running-mate and landing an endorsement from Indiana Governor Mike Pence. Despite his efforts, Cruz's odds of winning have fallen from a high of 64 percent on April 7 to just 5 percent on Monday.
Before it's here, it's on the Bloomberg Terminal.
LEARN MORE