Germany, Austria at odds over potential power market split

Dividing common zone may add 15% to Austrian power bills
Germany and Austria's prospective breakup of their shared 200 billion-euro ($227 billion) power market is vexing traders and companies that say splitting the union will push up manufacturing costs and drive away investment.
Lechwerke AG, a German utility, is resisting supplying its Austrian clients with longer-dated power contracts because it doesn't know how much to charge them if the 14-year-old market disappears, according to Thomas Reitemann, the head of power procurement at the Augsburg-based company. Mondi Plc, a paper maker with production in Austria, estimates a split will push up the country's power prices by as much as 15 percent and stifle competitiveness.
Today, prices are the same in both countries and electricity flows freely across the border. On gusty days, supplies from German wind farms to Austrian users can be more than their cables can handle, forcing power to take indirect routes through neighboring countries and risking blackouts. Germany says splitting the market will help reduce the 1 billion euros the nation's grid companies spent keeping their networks balanced last year.
"A power market split would be an additional burden for Austria as an industry location," said Stefan Doboczky, the chief executive officer of Lenzing AG, an Austrian cellulose-fiber maker. "This influences decisions about where we will make further investments -- in Austria or abroad."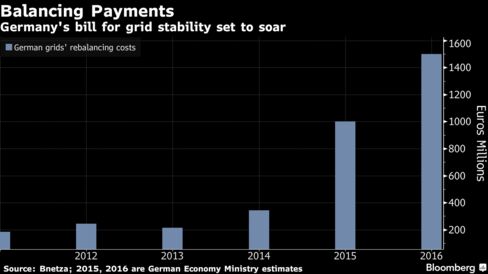 By controlling cross-border trade by 2018, network operators would only need about a third of the 7 gigawatts of stand-by power plants to keep the grid safe, German regulator Bundesnetzagentur said in a report Monday. The total cost of keeping the nation's network safe may exceed 1.5 billion euros in the coming years, according to the country's economy ministry.
Germany wants to reduce trading to what can be physically transported over the network, which is the case with most other European borders, Katharina Dubel, a spokeswoman at the German economy ministry, said by e-mail. For more than a decade, Austrian traders have bought German electricity when it's cheap to sell to other countries at higher prices.
The nations failed to agree on a proposal favored by Germany to limit the amount of traded capacity at the border in March. Bundesnetzagentur is still seeking a common solution with Austria, it has said.
Another way to reduce Germany's costs while keeping the common market would be for the Austrian network operator to contract 4.7 gigawatts of plants needed to keep the grid safe in its own country, the Bundesnetzagentur report published on Monday shows.
No Limits
The Austrian regulator doesn't see trading limits as the "most efficient and effective solution," Bettina Ometzberger, a spokeswoman at E-Control in Vienna, said by e-mail. She declined to comment on the negotiations, which are still going on.
Without unlimited access to cheap electricity from Germany, Austrian households and companies may have to pay an extra 300 million euros a year in power costs, according to an estimate by consultants Frontier Economics and Consentec. While predictable costs and savings by Germany and Austria could cancel each other out, a market split also causes uncertainties for which it is hard to estimate exact costs, Christian Zimmer, senior consultant at Consentec, said by phone.
"On balance economic welfare could be negatively affected by decreasing market liquidity or increasing market power," he said.
More than 200 billion euros of contracts for delivery into the German-Austrian market were traded on exchanges and through brokers last year, making it Europe's biggest electricity market, and making it the benchmark price for power in the region.
Utilities are already trying to include clauses in customer contracts that pass on any extra costs that arise from a market breakup, according to Rene Stadler, head of energy at Mondi in Vienna.
The split runs counter to European Union's vision of a single power market, with improved cross-border connections, better integration of renewable supplies and investment in energy infrastructure.
"Only a few utilities profit from the regional nature of markets, while many customers can benefit from a European energy market," Stadler said.
Contested Power Market


April 2015: Polish, Czech regulator seeks European energy regulator ACER's opinion on trading limits between Germany, Austria, which results in unplanned flows through Poland, Czech Republic increasing costs, blackout risks
May 2015: German regulator uses market split scenario in reserve plant forecast
Sept.: ACER backs breakup of German-Austria market zone with non-binding recommendation
Dec.: Austrian regulator E-Control's appeal against recommendation by ACER dismissed
Jan.: Poland, Czech Republic, Germany, Austria decide on more remedies to curb unplanned flows, but can't agree on market split
March.: Germany, Austria fail to sign agreement to limit trading at their border


Before it's here, it's on the Bloomberg Terminal.
LEARN MORE