Stepping Off the Beaten Path to Find Brazil's Next Stock Rally
Ibovespa trading on par with analyst target prices after rally

But Brazil's small-cap index has yet to catch up, data show
Investors who missed out on Brazil's equity rally this year can still jump into the game. But forget about the Ibovespa benchmark, according to analysts. Small-cap stocks show the most potential for further gains.
After a 24 percent surge this year, the Ibovespa is trading close to par with the combined target price for the gauge's 61 stocks, data compiled by Bloomberg show. But the BM&FBovespa Small-Cap Index, with 65 companies, traded 10 percent below that mark, based on Friday's closing prices.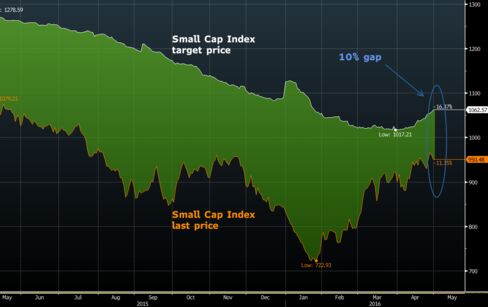 That's prompting investors like Rio de Janeiro-based NCH Capital, with $3.2 billion in assets under management, to swap out large-cap stocks for smaller Brazilian companies, said Latin American Chief Investment Officer James Gulbrandsen. By doing so, Gulbrandsen is hoping to ride the same wave of euphoria over attempts to impeach President Dilma Rousseff that has turned the Ibovespa into the world's third-best performing index this year.
"For the first time in five years, we're replacing defenders for forwards," said Gulbrandsen, a self-proclaimed soccer fanatic who named NCH's benchmark fund Maracana after the famed Rio stadium where the 2014 World Cup's final game was held. "Certain small caps have the potential to triple in 12 months if the impeachment really happens."
The BMFBovespa Small-Cap Index rose 0.4 percent to 954.23 in Sao Paulo trading, while the Ibovespa declined 0.7 percent to 53,561.54.
Rousseff could be forced to temporarily step aside by mid-May if a simple majority of senators votes that she should stand trial for allegedly doctoring fiscal accounts to mask the size of the budget deficit. Vice President Michel Temer, who would be her successor, is assembling an investor-friendly team that investors hope will quickly address Brazil's economic woes. Such bets have also fueled a rally in the real.
The political turmoil has turned the Ibovespa into the world's most volatile stock market, as day traders rush to buy and sell every time the process inches forward or stalls, said said Adeodato Volpi Netto, the head of capital markets at Eleven Financial Research. Now, the impeachment is almost a sure thing, so expectations that a new government is on its way to tackle Brazil's fiscal woes and rebuild support in congress is already priced into share prices for the nation's biggest companies, he said. Not so for small-caps.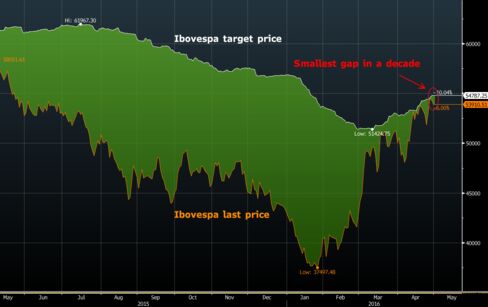 Eleven's recommended portfolio of six stocks, five of which are small-caps, climbed 20 percent since it was created in August 2015, compared with 6 percent for the Ibovespa. Volpi Netto's stock picks include GAEC Educacao SA, Cia. Ferro Ligas da Bahia, CSU Cardsystem SA, EZ Tec Empreendimentos & Participacoes SA, and Senior Solution SA. He also likes BRF SA, Brazil's biggest processed-food maker.
"Speculators create a distortion between price and value of the most-traded stocks," he said from Sao Paulo. "The performance of small caps tends to be more closely linked to the reality of the company."
Before it's here, it's on the Bloomberg Terminal.
LEARN MORE