Revived Leading Indicator Shows Canadian Economy Struggling
Index's 10 components signal changes in economic momentum

5th-straight reading with no rise suggests recovery will fade
A new index that detects early trends suggests the recent sharp recovery in Canada's economy will likely fade.
The MLI Leading Indicator was unchanged in March, the fifth-straight month the measure failed to increase. It's the second-worst stretch since the 2008-2009 recession, and shows the commodities slump is still inhibiting a recovery.
"Falling commodity prices remained the main source of weakness in Canada's economy, while the transition to growth led by the manufacturing and household sectors remains elusive in an environment of subdued global growth," Philip Cross, a research analyst at the Macdonald-Laurier Institute, said in a statement.
The year started well, with Canada's economy expanding 0.6 percent in January, the most since 2013. On an annualized basis, GDP probably grew at pace of more than 3 percent in the first quarter, outperforming most Group-of-20 countries, as exports surged. The rebound has helped fuel a 10 percent gain in the Canadian dollar this year.
The lackluster performance of the leading indicator "suggests the January increase in GDP was driven by transitory factors," Cross said, echoing a Bank of Canada prediction.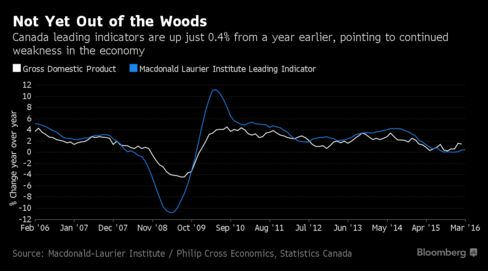 Statistics Canada stopped publishing its composite leading economic indicator in 2012 as part of a cost-cutting campaign and Cross, who left the agency that year, is responsible for its revival.
The leading indicator is made up of ten components which track the short term course of the economy, and can signal changes in its future strength. In March, just four of 10 components increased, led by housing and money supply measurements. Commodities and consumer confidence were the biggest decliners.
The gauge is up 0.4% from the previous year.
The Macdonald-Laurier Institute, an Ottawa-based non-partisan policy research group, will release April data on June 1.
(A previous version of this story was corrected in the second deck headline to show it was the fifth-straight month the leading indicator failed to increase.)
Before it's here, it's on the Bloomberg Terminal.
LEARN MORE