Europe's Refugees Set to Fall for First Time Since 2014: Chart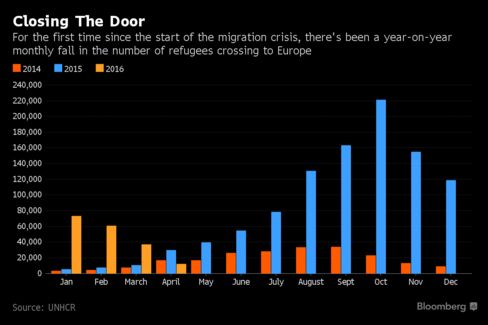 The throng of people seeking refuge in Europe is poised to decline for the first time since migrants from the Middle East and Africa started arriving in significant numbers in Greece and Italy in 2014. April's month-to-date total of 12,325 (through April 27) represents the first year-on-year monthly drop since the crisis began, according to data compiled by the United Nations refugee agency. The reversal comes after a March 18 European Union deal under which so-called irregular migrants who enter the EU in Greece are sent back to Turkey. Comparing year-over-year data is more meaningful than looking at successive months because the route across the Mediterranean Sea has traditionally become busier in warmer weather.
Before it's here, it's on the Bloomberg Terminal.
LEARN MORE