Munger Warns of Danger Facing AmEx While Buffett Affirms Support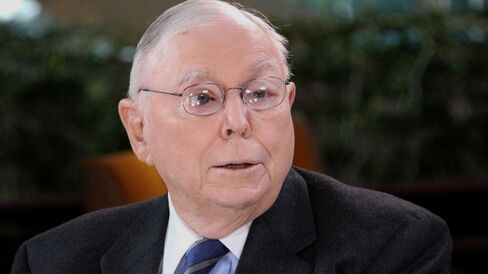 Interest in sector has drawn rivals, hurting old models

Buffett says he's happy to own shares in American Express
Warren Buffett and Charles Munger acknowledged that American Express Co.'s business model is under threat while affirming their decision to hold onto the credit-card lender's stock at their Berkshire Hathaway Inc.
"Anybody in payments who's an established long-time player with an old method has more danger than used to exist," Munger, Berkshire's 92-year-old vice chairman, said Saturday at the company's annual shareholders meeting in Omaha, Nebraska. "There's more fluidity."
Berkshire owns more than 150 million shares of AmEx, and gains on that holding have narrowed, with the credit-card company falling 25 percent in 2015 and another 5.9 percent this year through Friday. Last year, AmEx said it was ending its U.S. partnership with Costco Wholesale Corp., a relationship that accounted for 20 percent of worldwide loans. The retailer's partnership now belongs to Visa Inc. and Citigroup Inc.
"I personally feel OK about American Express, and I'm happy to own it," Buffett, the 85-year-old chairman, said at the meeting Saturday. The company's position in the industry "has been under attack for decades -- more intensively lately -- and it will continue to be under attack. It's too big a business, and too interesting a business."
Interesting Job
Still, AmEx has rebounded from its lows in February and gained further after first-quarter earnings beat analysts' estimates as customer card spending increased. Chief Executive Officer Ken Chenault has reshaped operations at the New York-based company and vowed to trim $1 billion in costs by the end of 2017 to boost profitability.
Munger said that long-term investors don't need to race into changes every time a company in the stock portfolio loses a bit of its edge. Buffett said one key is for investors to be alert about game-changing developments.
"We'll be late sometimes, we'll be wrong sometimes, but we'll be right sometimes too," Buffett said Saturday. "It's a tough game, but that's what makes our job interesting."
Before it's here, it's on the Bloomberg Terminal.
LEARN MORE